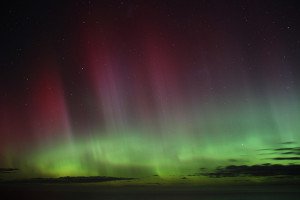 A magnificent light display – known as the Southern Lights or Aurora Australis – was visible even as far north as Australia on Tuesday night, with the best vantage being in the lower half of the South Island.
The curtains and swirls of red, pink and green light are only seen in a few countries nearest to the magnetic poles of the northern and southern hemispheres. On Tuesday they were more intense than usual and seen in countries further away from the poles, due to the powerful solar flare that took place mid-Sunday afternoon.
Palmerston North Astronomical Society president Jeremy Moss told The Manuwatu Standard that the light phenomena was caused by charged particles, like protons, neutrons, ions and electrons, being released from the Sun and hitting the Earth's atmosphere.
"The closer you are to the pole, so north and south, the more likely you are to see it," he said.
"We don't see it very often in the north of New Zealand unless there's some pretty serious solar activity going on so we were pretty lucky last night."
The Aurora Australis was covered by national and global media. Examples include:
Public Address: Capturing the Aurora
Stuff.co.nz: That was an aurora australis of rare grandeur
3 News: Video: Aurora lights up Otago
Radio New Zealand: Green sky at night, NZ's delight
Manawatu Standard: Aurora Australis lights up night skies
One News: Stunning display of nature: Aurora lights up the sky across the world
Yahoo News: Southern lights: Amazing pink aurora seen in skies above New Zealand
Daily Mail: NSW storm creates show in the skies with Aurora australis painting the night
Sydney Morning Herald: Aurora australis flares across Australian and New Zealand skies
Mashable: Aurora Australis lights up southern sky in sensational display
Gizmodo: The Southern Lights Are Going Off In Australia, And It Looks Amazing