Superbugs and vaccines are high on the agenda this week at the Australasian Society for Infectious Diseases (ASID) conference, an event which has received national media attention.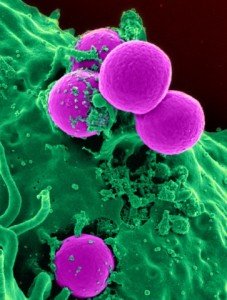 Research to be presented at the meeting includes a link drawn between the overuse of topical antibiotics and the spread of  Methicillin-Resistant Staphylococcus aureus (MRSA) skin infections. Advances in the development of a rheumatic fever vaccine will also be presented at the conference.
Ahead of the conference, several speakers shared their research with the media in a Science Media Centre online briefing. You can watch a recording of the briefing here.
Coverage of the conference includes:
3 News: Antibiotic cream drives superbug spread study
Newstalk ZB: Skin treatment may help spread MRSA
Yahoo NZ News: Kids driving deadly superbug spread: study
Dominion Post: Kids' skin cream spawns superbug
NZ Herald: Ointment fusidic acid linked to MRSA superbug rise
Radio New Zealand: Hopes for a rheumatic fever vaccine
3 News: Rheumatic fever vaccine within reach
NZ City News: Breakthrough rheumatic vaccine close
New Zealand Herald: Rheumatic fever vaccine 'now within reach'