Environment Minister David Parker told TVNZ's Q&A on Sunday that tough measures to curb nutrient run-off from farms could stall further dairy intensification.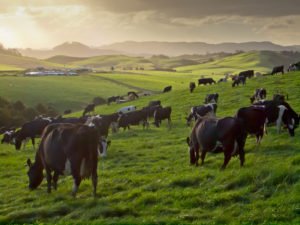 Though he said there would not be a direct cap on the number of cattle, "cow numbers have already peaked and are going down, but yet, in some areas, the number of cows per hectare is higher than the environment can sustain".
The SMC asked experts to comment on what such a system might look like.
Robyn Dynes, science impact leader, AgResearch, comments:
"Requirements or targets for reducing nutrient losses on farms are nothing new in many areas of the country, and in our experience, most farmers are already moving in that direction.
"While reducing stock numbers is one approach to reducing nutrient loss, there is no one size fits all. Whatever restrictions are put in place, it is important to recognise that every farm is different and has a different capacity to adapt and change. This is where research plays a crucial role in helping the transition by farmers – including providing better guidance on land use suitability and future technologies, such as in the digital agriculture space.
"Many farmers have already changed their systems to meet current and future targets, but the challenge is to meet those targets and make a profit. There are different approaches that can be taken around more efficient use of farm inputs like fertiliser and water, better targeting source areas of contamination, and use of alternative animal feed like fodder beet and plantain that have been shown to reduce nutrient losses.
"A big driver for farming has always been what is economic, and the environment is now another important driver. But there are others issues to consider around culture and communities and shared responsibility, that we cannot lose sight of. The risk is that if changes are made without all of these issues being considered, we could end up with unforeseen problems down the line."
Professor Troy Baisden, Professor and Chair in Lake and Freshwater Sciences, University of Waikato, comments:
"Globally, humans have pushed the Earth's limits, and nutrients – both nitrogen and phosphorous – are examples where development has shot well beyond the boundaries describing the 'safe space' to keep the Earth's ecosystems functioning to support us. This is particularly true in highly populated areas of the Northern Hemisphere, but the data for New Zealand show that we're not far behind. In many areas, we're already reaching a level of impacts that are difficult to reverse. What I find most remarkable about the Minister's recent comments is the firmness that we're not going to keep crossing these limits. That's what's really important to note here, and I'll come back to that.
"How we reverse course is another issue, particularly because few nations have. We already have examples, in areas like Taupō and Rotorua, where there's been real commitment and investment to protect iconic lakes. That's resulted in action by regional council legislation that has at least held the line and prevented irreversible eutrophication.
"Yet, it's important to understand that the progress in Taupō, Rotorua and elsewhere is a bit short of what's required to maintain profitability while reducing stock numbers. And as a result, getting plan changes working in those areas takes years of understanding thinking and compromise. It tends to lead to a feeling of completion only when everyone is equally unhappy.
"To maintain or improve productivity while reducing stocking, we almost certainly need a more forensic set of tools that can convincingly provide the insights farmers need. Those insights can come in the form of 'gee whiz' moments, for instance quantifying that there's a huge loss of nitrate during short periods, on particular soils. And equally importantly, we need to help find ways to manage a farm that prevent that. In the case of phosphorous runoff, which is also really important, we may be closer with ways to trap the sediment. I think we have some promising techniques, but they still need work.
"Coming back to Minister Parker's comments, they send the signals that may well lead to more rapid development of tools that will really help farmers become more profitable, but with less stock. That signal is needed to accelerate the science, innovation, and discussions that will help us find a path there. That will take time, but management changes under existing farming system could help us move faster than the land-use change to forestry that has dominated progress so far.
"And, it's important to realise that sending this signal can have much faster effects than the development of new science. For example, Minister Parker's commentary may go straight to the agricultural property market, and lenders, firmly suggesting a shift in relating land values to profitability, rather than milk solids production. It has largely been the case that land value is correlated with the milk solids production for a number of years, and a shift in the main driver of land value could have immediate effects. Greater milk solids production means more cows, but greater profit allows different thinking, and the kind that will take us on a journey toward both short and long-term solutions."
Conflict of interest statement: Baisden's Chair is funded by Bay of Plenty Regional Council, and he is a Principal Investigator in Te Pūnaha Matatiti, the Centre of Research Excellence.