The Ministry of Civil Defence & Emergency Management (MCDEM) sent out a nationwide test of their new Emergency Mobile Alert last night at staggered times between 6pm and 7pm.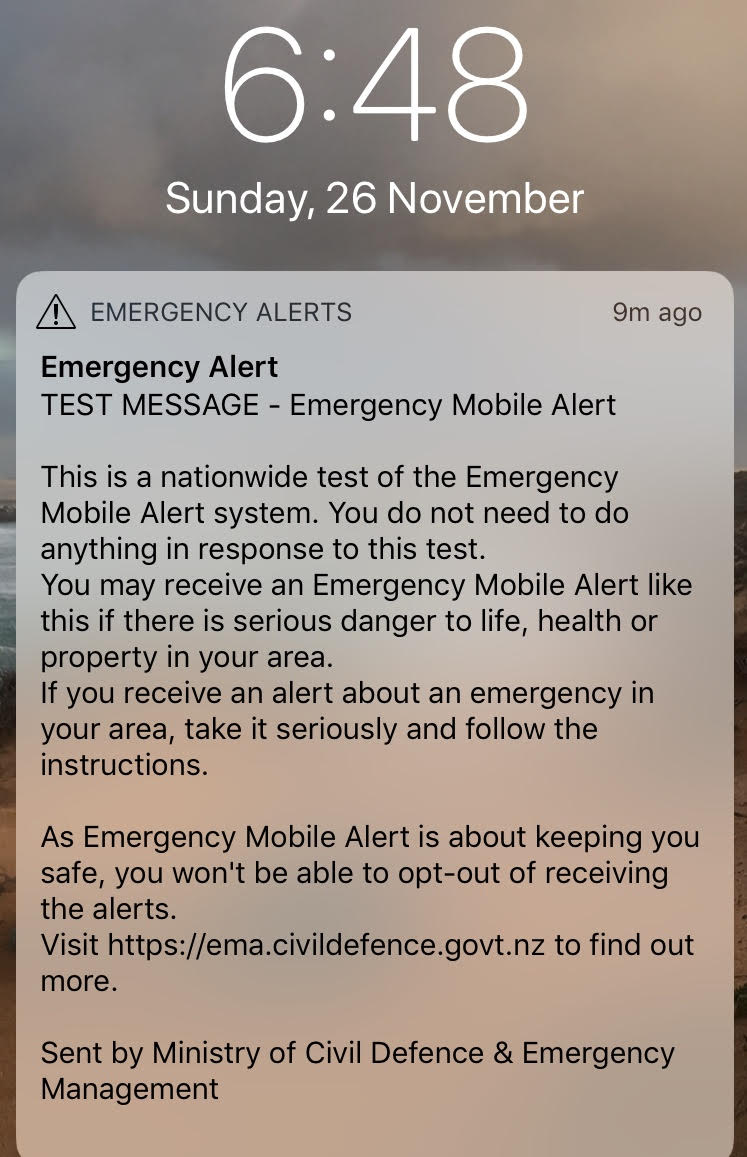 Accompanied by a unique warning sound, the mobile alert was sent to all mobile phones that were on, within target areas, and capable of receiving the alert. In future, the alert will be used by authorised emergency agencies (MCDEM, Ministry of Health, New Zealand Police, Fire and Emergency New Zealand, Ministry for Primary Industries, Local Civil Defence groups) to send messages to the public about emergencies.
The SMC asked hazard communication experts to comment on the alert.
Associate Professor Sarb Johal, disaster mental health, Joint Centre for Disaster Research, Massey University, comments:
"After a test of the new emergency alert system inadvertently went live in the early hours of an October morning, there was a fair degree riding on the successful implementation of the scheduled nationwide test today.
"These alerts are messages designed as an additional information channel to help keep people safe if there is an emergency. The Civil Defence website stresses that it is not designed to replace other emergency alerts and if you feel your life is in danger then you should take immediate action.
"Only around 30% of current phones in use are capable of receiving these alerts — though that proportion is expected to rise as people update their phones. This does raise an issue of a 'digital divide' between those capable of receiving these alerts and those who cannot.
"In addition, people may perhaps cross-check and compare information because they received an alert, yet someone else close to them did not. This fact-checking process may use up precious time in an emergency situation where, for example, speedy evacuation from a low-lying area liable to tsunami becomes critical.
"The messaging around this being one of many channels through which emergency information is received needs to be carefully managed. Those people who do have mobile devices capable of receiving these alerts may come to rely upon them as 'calls to action'. Care is being taken to ensure that over-reliance on this one channel does not become entrenched.
"However, it will be interesting to track user behaviour to see how these alerts are received and influence emergency response and preparation, as well as how this information is checked (against other information sources, including social, online and real-life), and how this is used in combination with other traditional channels that have higher rates of penetration e.g. radio."
Dr Graham Leonard, Senior Scientist, Risk and Society Department, GNS Science comments:
"Tonight's activation of cell broadcast technology (called Emergency Mobile Alert here) is a landmark change for public warnings in New Zealand.
"It requires no sign up, purchase, download or installation and goes to all compatible phones at virtually the same time. This gets over congestion seen with SMS text messages. As new phones are purchased, the proportion that receive the alert will grow over coming years – mine did not, but I will be looking closely at the next phone I get.
"The key thing for warnings that need to go to people as soon as possible, like tsunami alerts, is that they give a heads up and also a clear message. Research shows this increases the speed and proportion of people who take protective action.
"This system gives a loud noise and in some cases is already overriding silent mode. It also gives plenty of space for as long a message as is needed to explain what is happening, the consequences, and what people should do.
"Phones and the networks are also sustained for another purpose (day to day calls etc.), making it far easier to maintain compared to a separate warning system. [Other] warnings will always be needed for people that cannot receive mobile alerts, but this provides a backbone that should soon reach the majority of people.
"One challenge we have seen from other places with warning systems that can give fast warnings, is that we do not want people to wait for this system if they feel a Long or Strong earthquake. That will always remain the fastest sign to evacuate, as there may be a devastating tsunami coming and every minute counts! The official warnings are for people who didn't feel the earthquake, or were asleep, because they were a bit farther away."
Note: Graham helps make volcano and tsunami hazard maps and conducts warning systems research at GNS Science. He is a member of the Ministry of Civil Defence and Emergency Management Tsunami Working Group, and is part of the Emergency Mobile Alert Working Group.