New Zealand researchers have found the active ingredients in commonly-used weed killers can cause bacteria to be less susceptible to antibiotics.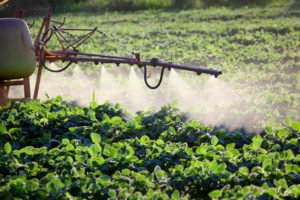 The study builds upon research published in 2015 that found three common herbicides, including Round-up, caused E.coli and Salmonella to become less sensitive to antibiotics. The new research, published in Microbiology, investigated which ingredients were responsible and found it was the active ingredients to blame; the researchers suggest regulators should consider these impacts when considering whether such products are safe to use.
The SMC gathered expert reaction to the study.
Dr Heather Hendrickson, Senior Lecturer in Molecular Bioscience, Massey University, comments:
"We are living in a microbial world and we have been affecting that world in ways that we have not fully grasped for much of the industrial era. Antibiotics are the set of drugs that we use to kill or disable bacterial pathogens that make us ill. Today, these important medicines are becoming less effective around the globe as bacteria become resistant to them due to our overuse.
"This new paper by Kurenbach et al. is an attempt to understand the effects that some common Herbicides (weed killers) may be having on a set of the microbial multitudes in our soils.
"This paper follows up on the foundational work published in 2015 by the last author, Jack Heinemann, which found that herbicide exposure could change the ability of some bacteria to survive antibiotic exposure. Here, the mechanism of some of the antibiotic effectiveness appeared to be protein pumps called efflux pumps in the bacteria. Bacteria exposed to herbicide start to make these pumps and install them like bilge pumps that purge the herbicides rapidly. Antibiotics can then be jettisoned along with the herbicides when both are present.
"The results of these two studies are not simple but they are worthy of public note for the following reasons:
Exposure to commonly-used herbicides have effects on microbes that can make the bacteria more likely to be killed by some antibiotics but also less likely to be killed by other antibiotics.
The microbes used here was a pair of bacteria, Salmonella enterica and Escherichia coli, both of which can be human pathogens. These are both on the 2017 WHO bacteria for R&D into new antibiotics list as Priority 1 'critical concern'.
The antibiotics used in this study were clinically-relevant antibiotics that we are using in human medicine today like ciprofloxacin and kanamycin.
The herbicides used in this study are available widely and there is little current regulation on their use.
It was the active ingredients in the herbicides (not the extra, 'co-formulant' additives) that had the greatest effects on antibiotic effectiveness.
The concentrations of herbicides and antibiotics used in this study were within ranges that might be experienced by bacteria we encounter daily.
"The message from the paper is clear, we need to reconsider our use of herbicides in light of the effect that they are having on the microbial world."
Dr Siouxsie Wiles, Microbiologist and Senior Lecturer, University of Auckland, comments:
"This paper is very timely, as this week is World Antibiotic Awareness Week in which the World Health Organization, the Ministry of Health, the Royal Society Te Apārangi and others are raising awareness of the crisis of antibiotic resistance. Antibiotics are losing their ability to kill bacteria. This means that we face a future in which routine surgery and medical treatments such as chemotherapy will be life-threateningly risky, and common infections untreatable. This crisis is caused in part because bacteria are able to mutate to become resistant to antibiotics, and because the discovery of new antibiotics has ground to a halt over the last few decades.
"This paper by Professor Jack Heinemann and his colleagues builds on their earlier work looking at the impact of pesticides on bacteria. Now they have shown that exposure of two common gut bacteria to commercial pesticide formulations and some of their active ingredients can change how much antibiotic is needed to kill the bacteria. The bacteria they have examined (Salmonella Typhimurium and Escherichia coli) are both able to infect humans and other animals, including farm animals.
"Prof Heinemann's findings show how complex biology and the microbial world are. Some of the ingredients made the bacteria more sensitive to some antibiotics, and others made them less sensitive to antibiotics. Fortunately, the type of resistance Prof Heinemann and his colleagues found is not the type that can transfer from one species of bacteria to another, but it is clearly still cause for concern.
"For me, their most striking finding was that surfactants, which are inert ingredients commonly used in all sorts of products, also increased resistance of the bacteria to various antibiotics. This means that it's likely that many of the products we routinely use in our environment, our homes and on our bodies, may be contributing to making some bacteria more difficult to treat with antibiotics. With the crisis we are facing, that's a real worry."