Climate change will impact human health, both directly – through heat waves and weather events – and indirectly by challenging our mental health, according to a new report from Royal Society Te Apārangi.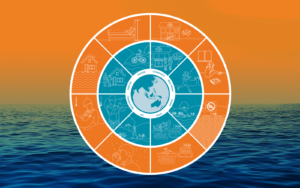 The third in a series looking at climate change from New Zealand's perspective, the report also found that climate change would likely exacerbate existing socioeconomic and ethnic health inequalities.
The report has been covered by local media, including:
NZ Herald: Climate change: five ways it could harm us
Dominion Post: Climate change predicted to take big toll on Kiwis' mental and physical health
Radio NZ: 'Building blocks' of human health face climate change threat
Newshub: Climate change a NZ health issue – report
TVNZ: Climate change to hit physical and mental health of New Zealanders, says new report
The Conversation: How climate change affects the building blocks for health
The SMC gathered expert reaction to the report, please feel free to use these comments in your reporting. 
Dr Rhys Jones, senior lecturer, Te Kupenga Hauora Māori, University of Auckland; co-convenor OraTaiao: NZ Climate & Health Council, comments:
"The report makes it clear that climate change is a fundamental threat to human health in Aotearoa/New Zealand, and that many of the adverse effects on health are already being felt. Importantly, it emphasises the unequal impacts of climate change, which will disproportionately affect those groups who already experience the poorest health outcomes. For Māori, climate change threatens to further entrench patterns of social disadvantage and unacceptable health inequities that have been established as a result of colonisation and various forms of racism.
"On the flip side, the report highlights the significant health benefits that could be realised through well-planned climate action. A clear implication is that New Zealand must act urgently as part of global efforts to address climate change, and must do so in ways that centralise and prioritise the most vulnerable groups in society. A business-as-usual approach would predictably see the opportunities and benefits accrue disproportionately to those who are already privileged, leading to widening social and health disparities.
"This makes it critical that health and equity are at the core of decision making as we transition to a zero-carbon society. New Zealand's response must be grounded in a Treaty framework, informed by Indigenous knowledge systems and with a focus on advancing Māori rights including the right to health. It must also provide for meaningful participation of other disadvantaged groups in identifying issues and developing solutions. Climate change represents an unprecedented opportunity to improve health and reduce inequities, but only if we take a decolonising approach that gives voice and influence to those who stand to be most seriously affected."
Professor Michael Baker, Department of Public Health, University of Otago, comments:
"This report is a well-researched and clearly written reminder of humanity's fundamental dependence on having a healthy environment. It raises the grim consequences of uncontrolled climate change for our health and outlines some of the benefits in having a comprehensive response to this threat.
"In my own area of infectious diseases research, we have demonstrated how rises in temperature contribute directly to an increased risk of foodborne diseases like salmonellosis. Many other climate change effects will occur, but are harder to predict, such as the capacity for heavy rainfall and flooding to overwhelm drinking water treatment systems and cause large waterborne disease outbreaks, as occurred in Havelock North in August 2016.
"It is encouraging to see political commitment from the incoming Government to address the drivers of climate change in New Zealand such as a proposed Zero Carbon Act, independent Climate Change Commission and expanded programme to limit greenhouse gas emissions.
"Mobilising New Zealand to respond to this common threat could bring real economic and health co-benefits as well as obvious improvements to environmental sustainability. The Royal Society should be congratulated on their work to produce consensus science statements on this hugely important public health challenge."
Dr Alex Macmillan, senior lecturer – environmental health, University of Otago; co-convenor OraTaiao: NZ Climate & Health Council, comments:
Note: Dr Macmillan was on the advisory group for the report.
"By bringing together such a comprehensive body of evidence, the report should be a wake-up call for us to shift from thinking about climate change as an environmental problem which will be expensive to address, to it being fundamentally an issue of health and quality of life for all New Zealanders.
"The report also shows that climate change will hit those already vulnerable first and hardest. It will further undermine the right to health for Māori, worsening existing health and social injustices, and making climate change an important Treaty issue.
"Many of the health impacts described in the report are already beginning to occur. The report adds further weight to arguments that New Zealand can no longer afford to delay urgent action as part of the global effort under the Paris Agreement.
"The overwhelmingly negative impacts of climate change on health require a co-ordinated health sector response – to adapt health services to expected changes, to reduce the health sector's own climate pollution, and to ensure health is at the heart of climate decision-making.
"Many of the short- to medium-term health effects will come via climate change's impacts on freshwater. We already have declining freshwater quality in New Zealand as a result of increasing agricultural and urban pressures on rivers, lakes and drinking water sources.
"When these existing pressures are put together with warmer waters and heavier but more infrequent rainfall, then we are setting ourselves up for more outbreaks of waterborne illness like the one experienced by Havelock North in 2016. Protecting health from climate change will therefore require greater action on freshwater quality.
"Perhaps most importantly, though, the report points out the exciting win-wins that are possible for health and fairness with well-designed climate policy. Whether we are trying to reduce climate pollution from transport, housing, industrial energy or agriculture, we can identify particular pathways that will also benefit people's health and wellbeing.
"For example, transport is our fastest growing source of climate pollution. But rebalancing transport spending from new roads to better walking and cycling, and investment in electric public transport would help address many of our biggest killers: obesity and diabetes, cancer, heart and lung disease and rising road traffic injury deaths.
"It is also clear from the report that there has been a lack of investment in understanding the health impacts of climate change in New Zealand, and as a result there are gaps in our knowledge. Further research is needed to forecast changes in patterns of ill-health as a result of locked in climate change to inform health sector planning and adaptation. But we also need to further identify pathways to zero carbon that are healthy and just, so we can better count health in our weighing up of the costs and benefits of policy choices towards a zero-carbon society."