In a week-long series, The Spinoff has devoted its attention to climate change: sponsored by Al Gore's new movie, An Inconvenient Sequel.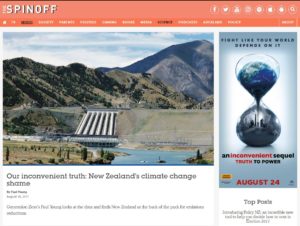 Kicking off with a review of the movie, which follows Gore in the countdown to the Paris climate summit in December 2015, Simon Wilson says it takes a more personal approach compared to the educational tool of its predecessor.
An interview with Dr Jan Wright, the outgoing Parliamentary Commissioner for the Environment, reflected on her ten years in the role. She said while "environment by its nature is a bit doom and gloom" she had seen changes during her tenure.
Dr Wright has recently advocated for an independent climate change commission, which she says is crucial to ensure stability across successive governments. "It's really important because of its inter-generational nature. Before Paris we will have five different governments, and you can't just chop and change every three years, it'd be nuts."
Profiling five journalists who have been covering climate change in New Zealand highlighted challenges in what's been called one of the hardest stories to tell.
Science journalist and NZ editor of The Conversation Veronika Meduna said climate change stories "are up against human psychology, which makes us resist change and care less about less imminent dangers".
NZ Geographic co-founder Kennedy Warne agreed that the long-term implications lulled the public into a false sense of security. "In telling climate stories today, media have to break through that fog of complacency," he said.
"A further challenge is that climate change is the classic slow-onset threat. Humans are hardwired to pay attention to sudden disasters, not gradual ones."
The full climate change week series is available at The Spinoff.