Hamilton law student Sarah Thomson has taken the Government to court this week over what she says is New Zealand's inaction on climate change.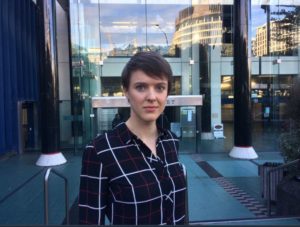 Her case is being heard in Wellington's High Court this week. Outside court on Monday morning, Thomson told media, "I feel a lot of people have their hopes on this, because a lot of people want to see change".
Her lawyer, Davey Salmon, has told the court the consequences of inaction on climate change were "terrifying, and it's those consequences that justify doing as much as possible".
Salmon said New Zealand was relying on its relatively small size to avoid taking action. "When the ship is sinking and there are a number of buckets, it doesn't matter how big they are, everyone bails."
Crown lawyer Peter Gunn told the court today that the government didn't want to minimise New Zealand's actions, but the country "cannot do it on our own".
"If New Zealand reduces emissions to zero there won't be any noticeable effect on climate change and we have to rely on the rest of the global community to achieve change."
The ongoing court case is being covered by local media:
Newshub: Student suing Government says there are 'logical fallacies' in climate change policy
NZ Herald: Climate change court case: 'The costs of inaction are terrifying'
Stuff.co.nz: Government defends climate targets in Sarah Thomson lawsuit
Radio NZ: Govt understands need to act on climate, argues Crown 
TVNZ: Government tell High Court 'there is no quick fix for climate change'
Stuff.co.nz: Waikato law student Sarah Thomson takes Government to court over climate change
Newstalk ZB: Student takes government to court over climate change policy
Newshub: Opinion: The NZ Government needs to pull its weight in the climate fight
TVNZ: Law student 'free to try' to change policy with climate change case against Government, PM says