With the release of the film Hidden Figures – recounting the story of a team of African-American women who helped NASA launch its first successful space missions – NZ Herald science reporter Jamie Morton talked to Pauline Harris and Nicola Gaston about diversity in science.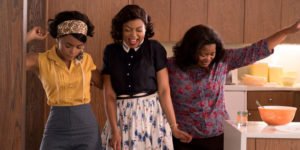 Victoria University of Wellington astrophysicist Dr Pauline Harris said while "we have come a long way in addressing the gender gap…there is a massive chasm that still exists".
She said the gap was slow to close "because there is a lack of realisation that many of the people in positions of influence do not recognise that there is a problem and that they need to be more proactive in creating change".
University of Auckland's Associate Professor Nicola Gaston – author of Why Science is Sexist – suggested a number of "feedback loops in play that inhibit progress" including a strong bias in analysing the effects of gender.
"There's a sense in which that made science complicit in reinforcing the biases – or quasi-intellectual excuses – of those who were inclined to suggest that there was something natural about male-dominance in science."
Hidden Figures opens in New Zealand on January 26. An Auckland gala screening to raise funds for a first-year scholarship for a woman to study physical sciences, mathematical sciences or engineering has sold out, but donations to the scholarship are still open.