Researchers at the University of Otago have made new gains in learning about one of the main viruses that causes cervical cancer and say their findings could lead to new therapies.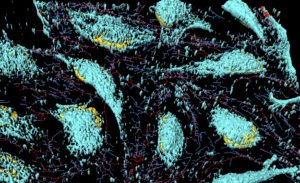 The team, led by Associate Professor Merilyn Hibma, found a protein called E7 could play a key role in suppressing the body's immune response to the human papillomavirus – HPV16.
Most people with an HPV infection clear the virus from their bodies within two years, but 10-20 per cent of those infected do not and thus have a much higher risk of developing cervical cancer.
The team's findings, published in Scientific Reports, showed that E7 caused a range of effects on specialised cells that are normally involved in priming the body to combat viral infection. Further research into this mechanism could lead to new therapies that allow the body to fight off a persistent HPV infection, Dr Hibma said.
The study was covered by local media, including:
NZ Herald: Otago University scientists take first step towards Keytruda-type drug for cervical cancer
TVNZ: Otago study gives fresh insights into virus that causes cervical cancer
Radio NZ: Dunedin scientists make discovery in cervical cancer research
Newstalk ZB: Prof Merilyn Hibma: Researchers inch closer to new treatment for cervical cancer