University of Otago public health researchers are calling on policy makers to develop stronger regulation of loose tobacco to curb the growing popularity of the cheaper option among New Zealand's young adults.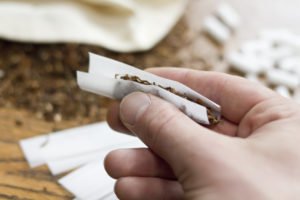 Their research, published in Tobacco Control, found young adults who used roll-your-own tobacco associated the product with being more natural and less harmful.
ASPIRE2025 co-director Professor Janet Hoek said roll-your-own tobacco caused a conundrum for young smokers: it is a cheaper form of tobacco but has strong stereotypes of older, heavily addicted smokers.
"Young adults who use RYO tobacco face a dilemma. On the one hand, they want to smoke as cheaply as possible, but, on the other, they don't want to be associated with negative stereotypes," she said.
The findings were covered by New Zealand media:
TVNZ: Health experts push for price hike for roll-your-own tobacco
Newshub: Calls for roll-your-own tobacco crackdown
NZ Herald: Young people think roll-your-own cigarettes are healthier, researchers say
Stuff.co.nz: Smokefree researchers want more expensive, uglier rolling tobacco