An early morning earthquake off the coast of the East Cape was widely felt across the North Island and prompted a tsunami warning.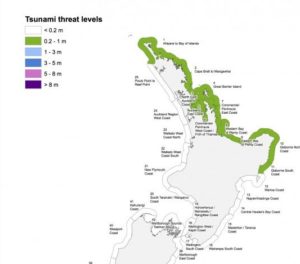 The 7.1 magnitude earthquake, 125 kilometres north-east of Te Araroa and 22km deep hit at 4.37am. It has been followed by a series of aftershocks, the largest of which was magnitude 6.2 at 5.14am.
The Civil Defence issued tsunami warnings for the east and north coasts of the North Island and the upper South Island. The warnings were lifted after 8am, but authorities warned strong currents and fluctuations in sea levels were likely to continue throughout the morning.
The earthquake, and subsequent tsunami warning, has been widely covered by local media:
NZ Herald: Magnitude 7.1 earthquake biggest to hit top of the North Island in 20 years
Radio NZ: More aftershocks to come after East Cape quake
Stuff.co.nz: Tsunami threat after 7.1 magnitude earthquake off East Cape jolts North Island
Newshub: Auckland trains delayed after tsunami warning
TVNZ: Aftershocks hammer East Coast as raw video shows impact on homes and shops
Bay of Plenty Times: Marine and beach threat for Bay of Plenty
Bay of Plenty Times: Tsunami threat for Bay after 7.1 quake: What you need to know
The Press: Civil Defence says no tsunami threat to Canterbury, but there could be 'unusual currents'
Radio NZ: Tsunami warning aftermath: What you need to know
A number of international media outlets also covered the earthquake:
CNN: Magnitude-7.1 quake off New Zealand; tsunami warning issued
The Atlantic: The Earthquake Near New Zealand
Daily Mail: Massive 7.1 magnitude earthquake strikes off the coast of New Zealand and sparks fears of a tsunami
CBC News: Earthquake off New Zealand's coast prompts tsunami warning, evacuations