HIV infection rates globally have failed to significantly decline in ten years, with over 70 countries actually increasing, reveals new research co-authored by Australian and New Zealand scientists.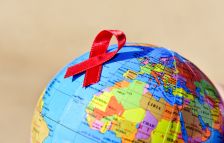 A global analysis of HIV/AIDS infections and access to treatment, published in The Lancet HIV, showed the rate of new HIV infections has stagnated over the past decade with 2.5 million people worldwide becoming newly infected every year.
Data from the Global Burden of Disease Study 2015 estimated a slow decline in new HIV infections, even as the annual deaths from HIV/AIDS declined at a steady pace.
Lead author Dr Haidon Wang, from the Institute for Health Metrics and Evaluation (IHME) at the University of Washington, Seattle, said access to antiretroviral therapy and measures to prevent mother-to-child transmission "had a huge impact on saving lives". But the new findings showed a "worrying picture of slow progress in reducing new HIV infections over the past 10 years".
IHME director Professor Christopher Murray said governments and international agencies needed a "massive scale-up of efforts" to meet the goal of ending AIDS by 2030.
"Development assistance for HIV/AIDS is stagnating and health resources in many low-income countries are expected to plateau over the next 15 years," he said.
The SMC collected the following expert commentary from New Zealand experts. The research paper is available to registered journalists on scimex.org.
Dr Arindam Basu, senior lecturer in Health Sciences, School of Health Sciences, University of Canterbury and a collaborator on the study, comments:
"The population health community of the world has resolved to end the AIDS epidemic threat by 2030. The UNAIDS has set a target of 90-90- 90 — across the world, 90% of people living with HIV (PLWH) will know their status, 90% of those detected with HIV will be treated with ART (Antiretroviral therapy), and 90% of these treated with ART will have viral load suppression.
As a result, an accurate estimation of the prevalence, incidence, mortality and epidemiology of HIV/AIDS is essential. The current study aimed at this mapping exercise.
A worldwide team of epidemiologists and public health researchers reviewed health statistics on HIV/AIDS based on Vital Registration Systems from different countries for the time period 1980-2015, and modelled estimates of the epidemiology of HIV/AIDS using established tools and improving upon the existing methods based on the methods used by the Global Burden of Disease (GBD).
This study provides the most comprehensive and internally consistent assessments of the worldwide levels and trends of HIV/AIDS incidence, prevalence, and mortality between 1980- 2015.
In general, the study found significant progress in reducing HIV deaths, especially in low-income countries, through the expansion of prevention-mother- to-child- transmission and ART programs between 1980-2015. However, incidence of HIV/AIDS may not have declined after it peaked in 1997. Annual new incidence rates have remained at 2.5 million annually globally over the last ten years.
The parameter estimates of HIV/AIDS Australasia in general, and New Zealand in particular, are favourable compared with the global data. New infections for NZ stand at 0.06 x 1000 (95% uncertainty interval 0.02-0.13) compared with high income countries at 43.6 x 1000 (UI:18.9-82.7). ART coverage for NZ per 100 persons with HIV is at par with the high income countries. This may be due to the low HIV/AIDS prevalence but also indicates a well-organised, efficient, and responsive public health system.
In summary, this analysis suggests that overall, deaths due to HIV/AIDS have significantly reduced in low-income countries. The rate of new infections remains steady globally. Bringing about the end of AIDS by 2030 will require dramatic change in HIV prevention strategies."
Sue McAllister, Leader of the AIDS Epidemiology Group, Department of Preventive and Social Medicine, University of Otago, comments:
"In New Zealand, the pattern is similar to that shown in the Lancet HIV report to exist in many other countries, with deaths from AIDS being uncommon, but new infections with HIV, while low compared to many countries, have in recent years been diagnosed at a higher rate than previously.
In 2015 in New Zealand, while only three deaths were reported among people with AIDS, there were 224 new HIV diagnoses, slightly higher than in 2014 (217), and somewhat higher than in the five years prior to that over which period the average number was 172.
Most (69%) of the new diagnoses were among gay, bisexual and other men who have sex with men (MSM), the group most affected by HIV infection in New Zealand.
Although less prevalent, HIV infection does also occur among heterosexual men and women in New Zealand, and should be considered as a possibility in any person with otherwise unexplained immune deficiency or with clear risks.
New Zealand continues to have a very low level of infection among people who inject drugs and there have been no children diagnosed with perinatally acquired HIV born since 2007.
While now treatable, HIV infection remains a lifelong condition with significant implications for individuals and financial cost to the health service.
The ongoing new infections and low number of deaths mean the number living with HIV in the population is increasing. However, disproportionality important for transmitting HIV, are those people who are undiagnosed.
HIV prevention efforts in New Zealand need to continue to focus on MSM with the promotion of high levels of condom use, and regular testing especially among those at more risk. HIV testing itself is evolving to offer more rapid and convenient access. However even with high rates of testing, maintaining high rates of condom use are important as people are highly infectious soon after they acquire HIV.
Internationally there is increasing interest in new prevention options including the use of HIV medication being taken by uninfected people at risk, which has been shown to be effective at preventing infections."