Ngāi Tūhoe and palaeontologists have teamed up to go digging for dinosaurs and understand more about how these animals lived in New Zealand.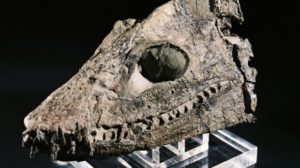 The research will focus on searching for fossil remains in streams that flow through Te Urewera National Park, which is managed by Ngāi Tūhoe.
"They're leading the project," palaeontologist James Crampton from GNS Science and Victoria University of Wellinton told Paul Henry. "They will be making sure we get in there and get out – it's really difficult country to work in."
Te Uru Taumatua Trust said to Stuff.co.nz that the iwi are keen to better understand the pre-history of their homeland: "The possibility of dinosaur fossils in Te Urewera is of great interest to Tūhoe."
The researchers have just secured $100,000 in government funding over two years. While bones have already been found in the area by the late amateur palaeontologist Joan Wiffen, much is still unknown about dinosaur life in New Zealand.
The story has been covered in local and national media:
Newshub: Tuhoe ready to go dinosaur-hunting
RNZ: Kiwi scientists secure funding for fossil fossicking
Stuff.co.nz: Scientists and Tuhoe to hunt dinosaur fossils in the Urewera range
Gisborne Herald: Fossil search in Urewera
SunLive: Urewera dinosaur hunt is on