As the COP21 climate negotiations gather pace in Paris, new research suggests global carbon emissions are projected to fall in 2015.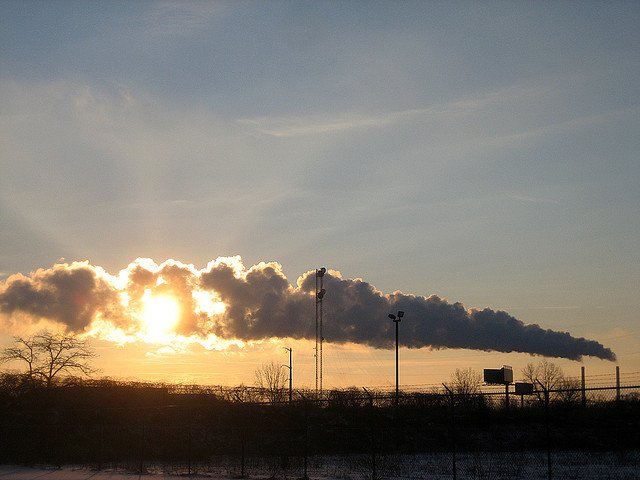 This drop in emissions is a turnaround from the more than 2 per cent growth seen on average for the previous decade. It also comes at a time when the world is experiencing global economic expansion, unlike the previous emissions drop which coincided with the global financial crisis.
The findings come from the Global Carbon Budget, an annual report of carbon dioxide emissions incorporating data from multiple research institutes from around the world. It is published in the journal Earth System Science Data, with a commentary from the authors also being published in Nature Climate Change.
Prof Corinne Le Quéré, Director of the Tyndall Centre at UEA who led the data analysis, said in a media release: "These figures are certainly not typical of the growth trajectory seen since 2000 — where the annual growth in emissions was between 2 and 3 percent.
"What we are now seeing is that emissions appear to have stalled, and they could even decline slightly in 2015.
"The projected decline is largely down to China's decreased coal use, driven by its economic adjustment.
"Whether a slower growth in global emissions will be sustained depends on the use of coal in China and elsewhere, and where new energy will come from. In 2014, more than half of new energy needs in China were met from renewable sources such as hydro, nuclear, wind, and solar power."
Online Media Briefing
The Australian Science Media Centre held an online new briefing with the Australian leader of the Global Carbon Project, Dr Pep Canadell, to discusses the latest findings. You can watch a recording of the briefing online via scimex.org (link in download table).
The Science Media Centre collected the following expert commentary from New Zealand researchers. Feel free to use these quotes in your reporting.
Prof James Renwick, School of Geography, Environment and Earth Sciences, Victoria University of Wellington, comments:
"This paper offers some very exciting results and prospects for the future. After decades of ever-increasing greenhouse gas emissions, and at a time when we need some real action on climate change, this paper is very welcome news indeed – if it really indicates a long-term shift.
"As the authors point out, there are many uncertainties and two data points are not enough to estimate a reliable trend, but the indications of underlying structural economic change are very promising indeed.
"Let's hope that COP21 in Paris cements what looks like the start of a move to a lower-carbon global economy."
Prof Martin Manning, Climate Change Research Institute, Victoria University Wellington, comments:
"At the end of 2014, China undertook to have its greenhouse gas emissions peak by 2030. Some thought this meant they might do it by 2025, but they could now be changing much faster than that. A new analysis, published in Nature Climate Change, estimates that China's 2015 CO2 emissions will not only be less than those of 2014 but that their rate of decrease is much faster than in the EU and USA, despite the targets for reduction that have been set there.
"Increases in CO2 emissions are seen for India and many other countries, but global emissions are now expected to decrease by about 0.6% in 2015. This is a very significant move in the right direction for dealing with climate change, although the extent to which it will be maintained is still not clear. Another recent study showed that China's emissions had been overestimated previously and, while that is now being taken into account, some significant uncertainties still remain in these numbers.
"The amount of CO2 in the atmosphere is measured much more accurately than its emissions, and so far that has increased by more in 2015 than it did in 2014. Some of this may be due to the current El Niño Southern Oscillation event and its effects on the oceans and deforestation in places like Indonesia.
"So it's still too early to tell whether we are now starting to control CO2 in the atmosphere, but any good news for our climate is welcome."
Prof Ralph Sims, Director, Centre for Energy Research, Massey University, comments:
"If this analysis showing that global CO2 emissions are stabilising is correct, then it will be a turning point that would be warmly welcomed by many here in Paris at the COP.
"But I have my reservations. The analysis appears to be based on one set of data from BP's Statistical Review of World Energy 2015.
"This is but one set of energy data – the IEA is another – yet this trend was not evident in their recent World Energy Outlook report so far as I know."
From the UK SMC:
Prof Myles Allen, Professor of Geosystem Science, University of Oxford, comments:
"It's only a matter of time before some bright spark comes out with 'emissions fell last year while temperatures rose to record heights, PROVING they aren't connected' – but, of course, temperatures respond to the accumulation of carbon dioxide in the atmosphere, not the rate of emission in any given year.
"So to stop temperatures rising, net emissions need to be reduced to zero. But for that, emissions need to peak first. So evidence that it is possible to grow the world economy while reducing emissions is of course good news.
"Is this the beginning of the end of global warming? Probably not. But let's hope it is the end of the beginning."
Prof Michael Grubb, Professor of International Energy and Climate Change Policy at University College London, and Editor-in-Chief, Climate Policy Journal, comments:
"Three big messages in this study could transform the global debate. The trend of rapid global emissions growth has been broken: this keeps 2 deg.C in play. China is starting to win its battle with coal consumption: the question for the next decade is whether coal reductions can offset its consumer-driven growth in oil and gas. And the hard-won policies for clean energy in Europe, and increasingly the US, are delivering: sustained 2%/yr emission reductions over the past decade have accelerated to 4%/yr for the past two years in the EU. There could hardly be better news to help the Paris conference in its final days."
Prof David Reay, Professor of Carbon Management at the University of Edinburgh, comments:
"These studies show just how crucial breaking our dependency on coal really is. The recent slowdown in coal burning and stalling of CO2 emissions gives hope that we can soon start moving down a global decarbonisation path.
"Be in no doubt, there is a long, long way still to go. To stay within the 2 degrees global warming target emissions can't just stall, they need to fall.
"Whether 2015 is the year we truly turn the corner on global emissions or is just a blip in the upward march towards dangerous climate change now depends on Paris."
Dr Tim Osborn, Reader at the Climatic Research Unit, University of East Anglia (UEA), comments:
"Lower-than-expected CO2 emissions in 2015 are welcome, but 2015 emissions are still higher than in every year up to 2013 and CO2 is still accumulating in the atmosphere because we are adding it (through our emissions) more quickly than natural processes are able to remove it from the atmosphere and store it in the oceans and forests."