The Government has laid out its strategy for science over the next decade in a new National Statement of Science Investment, launched this morning.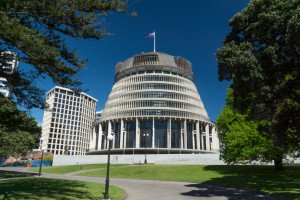 The Statement sets out the governments long-term vision for the science system, and a strategic direction to guide future investment.
"The NSSI provides a timely stocktake on the overall shape of our science system that will help determine where the next investments should be made," Science and Innovation Minister Steven Joyce said in a media release.
"Over the next five to 10 years, the science system will be increasingly prominent as it both shapes and is shaped by an economy that is increasingly innovation-led, with New Zealanders who are more engaged with science in their daily lives than ever before.
A full copy of the Statement and press material is available on the Beehive website.
Some key actions laid out in the statement include:
Simplifying MBIE contestable funding,
Establishing new Regional Research Institutes,
Developing a new International Science Strategy
Reviewing Crown Research Institutes' core funding, and
Undertaking a strategic refresh of the Health Research Council
Introducing annual performance reports evaluating the science system.
The Science Media Centre collected the following expert commentary. Feel free to use these quotes in your reporting.
Dr Nicola Gaston, President of the New Zealand Association of Scientists and Principal Investigator, MacDiarmid Institute for Advanced Materials and Nanotechnology, comments:
"The release of the final National Statement of Science Investment is very welcome. It is a great improvement on the draft document which was released over a year ago, and demonstrates that considerably more thought has been put into understanding the complexity of our science sector.
"Some of the recommendations made by the NZ Association of Scientists (as well, no doubt, as by others) appear to have been taken seriously: this is reflected, for example, in the stated intent to increase levels of investigator-led funding both through the Marsden Fund and through MBIE mechanisms. However, the extent to which the document focuses instead on the goal of increasing business expenditure, through means such as Growth Grants, is still of concern: it is not clear that the balance of expenditure has been critically assessed.
"The stated commitment to improve evaluation and performance measurement in the sector – including, critically, an annual system performance report – is one of the most encouraging aspects of the document.  The recently released report demonstrating the effectiveness of the Marsden Fund in enhancing research productivity has provided a model for how this might be done, and more research of this kind should be commissioned.  It is important, however, that MBIE not shy away from studies that will reflect on their own effectiveness, rather than framing 'performance' to refer solely to that of the researchers they fund.
"The section on the demographics of the science sector is perhaps most radically altered from the draft version. Unfortunately, nothing has been done to address the severe shortage of stable postdoctoral fellowships in New Zealand.  In fact the word 'postdoc' does not appear once in the entire document – this is perhaps the greatest disappointment.
"A particular concern, in light of recent redundancies at several of our CRIs, and the review of CRI core funding that is currently underway, is the suggestion that CRI core funding is intended solely to leverage proven ideas, rather than to develop or generate them. Hopefully this is merely a diagrammatic oversimplification, rather than a statement of intent which would undermine our national scientific capability."
Prof Shaun Hendy, Director of Te Punaha Matatini, a New Zealand Centre of Research Excellence, and Professor of Physics at the University of Auckland, comments:
"The release of the National Statement of Science Investment follows from the poorly received draft in 2014, a consultation period, and then a lengthy incubation within MBIE. The surprise to me perhaps is that there so little new thinking or new policy. In fact, there seems to be almost nothing in the Statement that hasn't been signalled by MBIE or the Minister in the last 12 months. The priorities still seem to lie principally in seeing science as route to economic growth, with the nods to health and environmental research focussing on how they too can help grow the economy. This Statement seems very much business as usual and must reflect a state of mind in Wellington that the science and innovation sector is working well.
"Many of us in the sector would disagree. For instance, the original draft and many of the sector submissions acknowledged the significant decline in support for post-doctoral fellows in New Zealand. This government cut 90 post-doctoral fellowships in 2010 after officials made a simple mathematical error in a briefing document to the then Minister, Wayne Mapp. The draft Statement mentioned post-doctoral fellowships 10 times, and sector submissions made more than 50 mentions of their concerns about a lack of funding for postdocs. Yet the this final cut fails to mention postdoctoral fellows at all. This is really very disappointing.
"Although the importance of basic research is mentioned many times in the document, the Statement does not any targets for lifting Marsden fund success rates above 7%. Actions speak louder than words, and it is clear that short-term, low risk and low impact research is very much still the priority. This is despite the recent study by economists at Motu that showed that there is are many high quality basic research projects that go unfunded.
"The quality of evidence in the Statement has improved from the draft (although there may need to be an errata), but remarkably little of it appears to have been used to inform the policy. For instance, the high quality of physics and astronomy research in New Zealand shines through in many parts of the document, but there does not seem to be any idea of how this strategic advantage could be leveraged.
"Finally, I am pleased to see the lack of government investment in research that might underpin ICT has been acknowledged and will be addressed. However there didn't seem to be any new ideas expressed as to how this might occur. There will need to be more thought given to this if we are to realise the benefits of any new investment."
Wendy McGuinness, Chief Executive of the McGuinness Institute, comments:
"This latest NSSI sets a broader role for MBIE. Rather than predetermining and controlling the system, you get a sense that MBIE is aiming to be the guardian of the science investment system. This is very positive from our perspective. You get a sense that MBIE really wants to look at the system in many different ways. For example, rather than putting in place concrete rules and commitments it aims to be more responsive, putting in place initiatives and principles to gather information and evidence on how the system operates in practice (what is working and what is not). For example, the creation of an annual system performance report, the creation of a new international science and innovation strategy and a commitment that the NSSI will be refreshed every three years .
"We really applaud the recognition and importance placed on attracting, developing and retaining talent. This aligns with the four integrated work streams of our TalentNZ project: grow, attract, retain and connect talent.
"We believe that the Regional Research Institutes are a good idea, and look forward to seeing how this initiative is implemented over the next few years.
"Areas to watch:
an assumption that low-risk projects is a bad thing (see page 30 – Too much of our science and public science investment, across government and industry, is currently focussed on low-risk projects with more certain short-term, impacts'). We believe risk must be calculated in terms of costs, risks and benefits, rather than what is arguably implied here. Risk should further be reviewed in terms of magnitude, probability and timeframes.
an implication that productivity is the key deliverer of wellbeing (see page 32 – " Productivity growth is the primary means to deliver higher wellbeing for New Zealanders." We do not agree with this statement as a strong judiciary, good welfare/health system for the poor and aged etc are also the primary means to deliver higher wellbeing.
"Lastly, we really like the quote: 'Government's role is to … be the principal long-term investor in generating new ideas research where social returns are potentially high but private returns are uncertain.' We believe this is a key change in that it has moved away from a focus on innovation per se (and to some extent the old OECD definition of innovation), and is looking more deeply at what invention and progressing an idea means in practice.
Are there any areas where greater clarity is needed?
"The Statement sets out the Indicative Implementation Timeline on page 64. It would be great to flesh this out further (which no doubt MBIE will do) as this would provide further accountability and transparency into the process.
"Relating to the National Science Challenges it would be good to know how these fit into the different sectors (discussed in Section 2 [page 22] and Section 4). In September 2014 a new research area for the New Zealand's national Science Challenge – Building Better Homes, Towns and Cities was announced. It is not immediately obvious where this research area falls within the different sectors. We consider that this document would benefit from illustrating how  the challenges align with the sectors.
"Further attention should be given to the sectors in Section 4 (pages 35-52) and how they interrelate. The headings of each individual sector differ, and this could be seen as confusing to some. Section four actually has eight headings but we think in reality only six are sectors e.g. the health sector, primary industries, the manufacturing sector, ICT sector, environment and an other sector.
"Further, although we appreciate the six sectors exist, there is a risk that these will be seen in isolation when in reality they are very integrated. There is a need to understand this integration to understand the synergies that occur across sectors. For example, both the ICT and the environment sectors have a strong impact (risk and opportunity) on the four remaining sectors. MBIE are likely to be thinking about how these sectors might integrate in practice but the Statement would benefit from making this clearer.
"The primary industries sector (pages 38 and 39) needs more work and thinking; it is not as clear as the other sectors.
"The environmental sector (pages 44 and 45) focuses on the importance of information which we consider will be helped with the move to environmental reporting (ER Act 2015). We would have liked to see this initiative integrated into this part of the Statement.
"Further, we feel the environment sector deserves more in-depth consideration of how instruments and institutions could be developed going forward. For example, as part of our One Ocean Project which explores how New Zealand might best manage its oceans the institute is collaborating with a number of other parties to explore the idea of an 'Oceans Institute' for New Zealand. The creation of an oceans institute would be a practical way to bring people together to work towards the management of oceans for the good of all New Zealanders. The proposal is to establish an independent policy institute for the Pacific and Southern oceans, possibly based in Wellington, New Zealand. The primary function of this institute would be to bring together information on our oceans, and it would focus on delivering evidence-based policy advice to government. Ultimately, the oceans institute would exist for the public good, and as such must act for the benefit of all New Zealanders. We will be publishing a proposal for the creation of an oceans institute in November which will be sent to every MP."
Chris Whelan, Executive Director of Universities New Zealand, said in a statement:
"We commend Minister Joyce for listening to the submissions made by the research community.  This strategy aspires to create a system that is more simple and transparent, and is focussed on making a difference to New Zealand society, businesses and individuals.
"New Zealand's universities welcome the new dual focus on supporting high quality research that is also likely to have an economic, cultural or social impact on New Zealand.
Prof Sir Peter Gluckman, the Prime Minister's Chief Science Advisor,  said in a statement:
"The NSSI sets an ambitious but realistic and appropriate vision for NZ science. It will have optimal effect if it is accompanied by the heralded increases in funding that is appropriately balanced between investments in broadly based public sector R&D and encouraging the private sector."