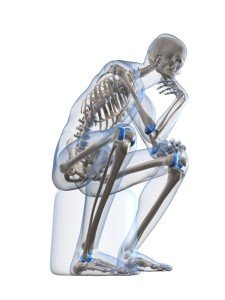 Calcium gives you strong bones, right? Not according to new Kiwi research.
Increasing calcium intake through diet or supplements should not be recommended for fracture or osteoporosis prevention, say researchers from the University of Auckland.
They undertook two studies examining the available published evidence for the role of calcium in boosting bone health in older people, published today in the BMJ.
The first study found that increasing calcium intake from dietary sources or by taking supplements produces only small increases in bone density which, according to the authors, are unlikely to lead to a clinically meaningful reduction in risk of fracture.
The second study found that dietary calcium intake is not linked to risk of fracture, and there is no clinical trial evidence that increasing calcium intake from dietary sources prevents fractures.
Read more about the research on Scimex.org
In July, lead author Dr Mark Bolland published an BMJ editorial calling for greater transparency around calcium nutrition recommendations, saying that change is made difficult by a complex web of interactions between the supplements industry, advocacy organisations, and academia.
The Science Media Centre collected the following expert commentary. Feel free to use these quotes in your reporting.
Dr Nigel Gilchrist, Specialist Consultant for the Canterbury District Health Board, comments:
"These findings are not surprising. They show that dietary and supplementary Calcium have very little effect on bone density and more importantly Calcium in either supplementary form or dietary form appears to have no significant effect on preventing fractures. The Editorial by Karl Michaelsson covers the issues and the controversies very well.
"The bottom line is that Calcium is not a treatment for osteoporosis or a treatment for preventing fractures. We now have very good pharmacological agents that should be used in patients who are at high risk of osteoporotic fractures. "
Sue MacDonell, NZ Registered Dietitian and PhD Candidate, Department of Human Nutrition, University of Otago, comments:
"The Nutrient Reference Values for calcium in Australia and New Zealand were set to maintain calcium balance, that is, to ensure that the amount of calcium consumed is similar to the amount lost through excretion. There is some evidence that aging results in both a reduction in calcium absorption and an increase in calcium loss, hence the higher calcium requirements recommended for older men and women. These higher intakes are intended to minimise loss of calcium from bone stores.
"These most recent papers are clear in their recommendation that calcium supplements should not be prescribed to older adults on the basis of improving bone mineral density or preventing fractures.  It is important to remember, however, that besides contributing to bone health, calcium also has other roles in the body.  For this reason it is important that the decision to prescribe calcium supplements is made based on the health needs of each person as any dietary supplement, including calcium, should only be prescribed if the person has a demonstrated need.
"Dietitians agree that it can certainly be difficult for older people to meet the higher recommendations for calcium solely from food, particularly if dairy products are not regularly consumed and consequently there are instances where calcium supplementation is indicated.
"In light of these most recent findings, physicians and dietitians should consider the appropriateness of calcium supplementation for each patient. Considerations include the amount of calcium being consumed from dietary sources, tolerance of the supplement and other health conditions such as cardiovascular risk. Furthermore it is worthwhile to check that very high amounts of calcium are not being consumed from all sources combined."
"In the residential care setting, I would continue to advocate for calcium supplementation where a resident has been assessed as not meeting their calcium requirements. Furthermore there is strong evidence supporting supplementation of vitamin D for older adults in residential care where vitamin D levels are likely to be low. The findings of these most recent studies do not change these recommendations."
Dr Carol Wham, Senior Lecturer, Institute of Food, Nutrition and Human Health, Massey University, comments:
"The findings highlight that not enough is known about calcium needs for older people who are a heterogeneous population
"One-size-fits-all recommendations are not cognisant of requirements and are problematic as extrapolated from balance studies in younger adults.
"Evidence supports a food-based approach but more information is needed about which dietary patterns support the best health outcomes for older people. For  example, milk and milk products are not only important for bone health; they are key contributors to dietary protein intake which is especially important for older adults to maintain healthy function."