Paying farmers to reduce their impact on the environment is working overseas, but 'cash for conservation' schemes are too often undercut by massive government subsidies to boost agricultural production, argue authors of new research.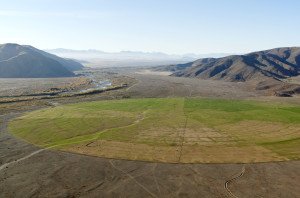 In an article published in the journal PLOS Biology, researchers from Cambridge University and Landcare Research examine the balance between incentive schemes for farmers to protect the environment and government subsidies intended to boost agricultural production.
New Zealand farmers receive one of the lowest levels of government support in the developed world for either production or conservation, essentially "abandoning the agricultural sector to market forces" the article states. It goes on to argue that this "laissez-faire approach to the agricultural sector does little to safeguard the environment."
An accompanying media release from Cambridge University highlights the case of New Zealand as a country "where there are no subsidies or mitigation schemes, and much of the country has been transformed into a massive dairy farm for China as a result."
The Science Media Centre rounded up the following expert commentary.
Dr Marie Brown, Senior Policy Analyst, Environmental Defence Society, comments:
"The article demonstrates that payments to farmers to protect the environment are a worthwhile investment, but that they are easily undermined by large subsidies elsewhere in the economy. We see this here in New Zealand, with conservation incentives usually dwarfed by subsidies  for things like irrigation schemes. Building goodwill and empowering farmers to be good stewards of their land is confirmed as an effective approach, but benefits will dissipate with perverse subsidies for environmentally harmful activities in play. This demands a more holistic and strategic view of our agricultural industry than is perhaps taken now.
"The authors also urge caution about assuming that lowering intensity of production will produce an overall improved outcome: it may well lead to leakage and the displacement of environmental effects. This will challenge some people, because there are dire ecological consequences for intensive farming managed without regard for environmental limits. Without robust systems that can achieve that ring-fencing, lowering intensity of farming is looked to as an obvious solution. But in fact may spread harmful activities over a greater area for minimal net benefit.
"The article contains some valuable lessons for New Zealand, and indeed references it specifically, as an example of an agricultural economy with a commodity focus, that has failed to adhere to environmental bottom lines. Such bottom lines are not negotiable: nature decides where they are! We choose how to address them. An urgent course-correction is necessary to maintain a resilient economy, and the authors outline a range of ideas that would contribute to that. Future prosperity will depend on solutions that navigate past pitting economic growth and environmental protection against one another and align those often divergent interests."
Dr Ann Brower, Senior lecturer, Department of Environmental Management, Lincoln University, comments:
"This paper has quite a lot to recommend it.  If there are to be subsidies, it is certainly better to subsidise and encourage good environmental practice than bad, as they say.  I would not call New Zealand's environmental or agricultural policy "laissez-faire" as that's quite a loaded term.  I think it is fair to call NZ "lightly regulated", by international standards.  And it's fair to say that the ill-defined and ambiguous terms in the RMA, like "significance", lead to outcomes that might appear the result of laissez-faire.  But I would not call the NZ environmental regulatory framework laissez-faire."
Prof Jacqueline Rowarth, Professor of Agribusiness, University of Waikato, comments:
"Dairying occupies 1.7 million ha of land in NZ, which is approximately 6%…so to say 'much of the country has been transformed' is something of a stretch of the data and gives the tenor of the article. What the authors have termed a 'laissez-faire' attitude to the environment has resulted in the expenditure of almost a billion dollars in the last few years fencing waterways, planting natives and upgrading effluent systems (see Federated Farmers report released last month).
"Certainly other countries have been 'removed' from market forces by Government subsidies – but the NZ farmer has responded to domestic and international signals to the benefit of the country in economic growth and the benefit of the environment through adoption of new technologies as they have been developed."
Disclosure: 'I have a 5% interest in a dairy farm which supplies Fonterra.'
Dr Suzi Kerr, Senior Fellow, Motu Economic and Public Policy Research, comments:
"The paper has some positive aspects but the implications drawn about New Zealand are illogical. Subsidising farmers is not generally a form of environmental protection. Even in the EU, only a small fraction of the support payments are positive for the environment.
"New Zealand has no production subsidies and few mitigation schemes. However, we do provide credits to forestry through the ETS and Afforestation Grants Scheme and many councils have programmes to help farmers reduce their environmental footprint especially in the water quality space. The authors are correct that dairy has expanded – but not by that much (7.3% of NZ's rural land in 1984 to 15.4% in 2012). This expansion, moreover, is not the result of a lack of subsidies or mitigation schemes.
"Pre 1984, the government subsidies did not minimise environmental impacts of agriculture. We were subsidising farmers to clear marginal land, subsidising fertiliser and encouraging all forms of pastoral farming. These are all environmentally damaging. The implication in this paper, is that New Zealand previously used subsidies to minimise environmental impacts of agriculture. That is manifestly incorrect.
"The authors confuse correlation with causation and even present a misleading picture of the correlation. Indigenous grassland has been cleared (not obviously with any link to the subsidy removal) but other areas are being reforested (as a result of the subsidy removal). Removing production subsidies from farming has led to reduced areas of extensive sheep/beef farming in NZ. Much of this land has converted to forest.
"The authors are correct that dairy farming has increased but this is due to the general trend towards intensification of high quality land in New Zealand and because of high profitability in dairy. If we still had subsidies, it would have increased even more – not less.
"Yes, New Zealand largely uses regulation to control environmental effects. This is not inherently bad. It's how we (and most countries) manage environmental impacts in all sectors. In many places expressed public concern suggests we don't have the balance between local economic benefits and local environmental impacts right. That means we need to have stronger and better designed regulations. That doesn't necessarily involve any subsidies to farmers, though in some cases carefully targeted payments for specific actions could be part of the tool set used by Regional Councils."
Professor Bryan Jenkins, Waterways Centre for Freshwater Management, University of Canterbury and Lincoln University, comments:
"New Zealand has minimal agricultural subsidies so decisions about private land use for agriculture are made on a commercial basis. (There is no financial support from government for increased production.) In recent times, the rise in dairy prices has led to the conversion of dryland farming to irrigated agriculture for dairying. This has been predominantly in the South Island where there is 88% of New Zealand's irrigated land, and in particular, in the Canterbury region where there is 67% of New Zealand's irrigated land. In Canterbury dairying comprises about 300,000 hectares and there is about 3,000,000 hectares of dryland pasture. Note that about 30% of New Zealand is in the conservation estate.
"Dairy conversions require a consent under the Resource Management Act which can set conditions on water extraction and discharge of contaminants. The RMA is "effects-based" legislation similar to many countries and does not consider loss of ecosystem services. It allows limits to be set for agriculture for nutrient discharges but not for greenhouse gas emissions. The problem with effects-based legislation is that it allows pollution up to the limits.
"To counter the inability of the RMA to adequately address cumulative effects, and, the concerns about biodiversity loss, the elected regional council introduced community based approaches about ten years ago to develop a regional water management strategy and a regional biodiversity strategy. "In water zones (combinations of catchments and groundwater basins),community committees are working with the regional council and communities to recommend environmental limits and biodiversity enhancement priorities as two of ten target areas for water management from the regional strategy.
"The regional council has been funding (about $4m per year) biodiversity enhancement projects with contributions from central government, dairy industry and Ngai Tahu."