The country's brightest minds ponder the future of science in a special issue of the Journal of Royal Society of New Zealand, to be published this week.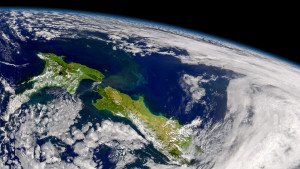 The issue, which will be accessible online for free during the month of August, presents a dozen articles examining what the future holds for science research in Aotearoa.
Will research funding be allocated by lottery? Can we expect an 18 month weather forecast? Are private companies like Weta Digital going to drive New Zealand's innovation? These are just some of the questions grappled with by twenty authors.
Issue guest editor Associate Professor Yeoman, who is a 'futurologist' at the School of Management, Victoria University of Wellington, explains:
"The volume asks questions about the future, aiming to understand what might or could happen.  We wanted to hear from experts in science, those that understood the bigger picture or those that could understand the dimensions and interconnectivity of science and how events could unfold.  Fundamentally, we were curious with what the future may be and how others imagined it."
You can read more about the research and find links to all articles on Scimex.org.
The Science Media Centre approached some of the authors for comment asking them to outline their views on the future of New Zealand science in different areas.
Professor Sir Peter Gluckman, the Prime Minister's Chief Science Advisor, examines the challenges for science in his article 'Science in New Zealand's Future.' He comments:
"The critical role of science to New Zealand whether for social development, healthier society, a healthy environment or for direct economic growth is obvious; it is an essential investment that needs to be grown and sustained by both the public and private sectors. But science systems themselves will be subject to ongoing change because of external and internal pressures and with that the science community too has to accept change.
"The opportunities for NZ are real but a balanced and adequately funded science system is needed to exploit them – our country will be the loser if we do not."
In the article 'What Future for Science?' retired scientist Dr John Robinson explores how changes in science policy have shaped the sector and what that means for the road ahead. He comments:
"What should matter most to science is the fate of this damaged planet.
"When the scientific establishment was run by scientists, the DSIR [Department of Scientific and Industrial Research] supported a search for answers to that wide-ranging holistic question but such initiative has no place in the current divided discipline-oriented system.  The organization of science must return to first principles and control of its own budget, priorities and freedoms so that scientists can consider inconvenient questions."
Drs Rhian Salmon and Rebecca Priestley (Victoria University Wellington) examine science communication and engagement in their article 'A future for public engagement with science in New Zealand.' Dr Salmon comments:
"We're encouraging scientists to question why, and how, they communicate science. Is it to tell the world how great they are and why we should all trust them and fund them, or is it to help New Zealanders (and New Zealand) to make informed decisions about science and technology?
"Although New Zealanders appear to be supportive of the science sector (according to a recent survey), we still have a way to go towards a public who are truly informed and engaged with science. In order to achieve this, we need scientists who are more informed by and engaged with the public. In our paper, we argue that scientists need to be informed by research into science communication, rather than just doing science outreach in a reactive or intuitive way, and that science degrees should include courses that critically examine the role of science in society.
"In addition, rather than the current focus of celebrating individual superstar scientist-communicators, we need a general raising of the bar for communication and public engagement right across the science sector."
Agriculture and other primary industries will need to be carefully balanced with the environment in the future, writes Prof Jacqueline Rowarth (University of Waikato) in her article 'Rethinking Production Systems-Science for the Land-based sector.'
"Biological limits to meeting demands for sustainably produced food necessitate a change in approach for agricultural science.
"A successful future requires that scientists move from historic to future criteria for system optimisation, involving process-based models that enable insights into effects of changes in the given system. This will be possible only if the same criteria used for evaluating agricultural production systems, including proficiency, productivity and minimising unproductive costs and waste, are applied to the science system as well."
Prof Juliet Gerrard (University of Auckland)'s article 'Investigator-led science: Predict the unpredictable and be ready to capture transformational change', highlights the need for investigator-led 'blue-skies' research to allow those 'eureka moments' to happen. She comments:
"The fundamental research of today expands the boundaries of knowledge for tomorrow, and produces benefits that were not predicted (or predictable at the outset).
"A reflection on twenty years of Marsden-funded research helps inform our predictions for how science can help New Zealand in the future.  We are not surprised to find surprises; often, the benefits of the research were not connected to the original goals.
"What does this tell us about the way science works, and how we might predict what benefits it reaps in the future? Investigator-led science will undoubtedly benefit New Zealand society in the future, but accepting the impossibility of prediction is part of the journey to realising the biggest benefits."