A 'walking' bat fossil discovered in central Otago has revealed the super-sized origins for two of New Zealand's three bat species.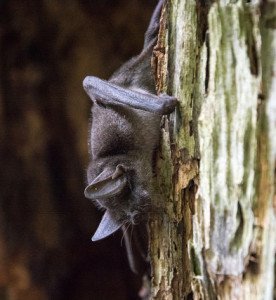 The bat's remains were found in the South Island in what was once a large prehistoric body of water called Lake Manuherikia.
The research team – which includes scientists from the University of Otago, GNS Science, Te Papa Tongarewa and Canterbury Museum – estimate that the remains are between 16 and 19 million years old, meaning the bat lived during the early Miocene era and enjoyed a subtropical rainforest habitat.
They also worked out that the new fossil species – named Mystacina miocenalis – was about three times bigger than its modern-day cousin, the lesser short-tailed bat/pekapeka-tou-poto (Mystacina tuberculata). According to the researchers, the unusually large size of the bat and the structure of it's limbs suggest it it did not hunt in-flight and instead took heavier prey from the ground.
"Our discovery shows for the first time that Mystacina bats have been present in New Zealand for upwards of 16 million years, residing in habitats with very similar plant life and food sources," says lead author Suzanne Hand, vertebrate palaeontologist at Australia's University of New South Wales, in a press release.
Read more about the study on on Scimex.org.
The research has been covered in national and global news. Examples include:

New Zealand Herald: NZ once home to prehistoric king-size bat
NZ City/Newswire: Big walking bat once lived in NZ
Stuff.co.nz: Ancient discovery pushes back New Zealand bat history
Sunday Star Times: Oversized walking bats roamed NZ
3 News: Prehistoric Otago bat too large to fly
Newstalk ZB: Fossil of big walking bat uncovered in NZ
Perth Now: Fossil of big walking bat discovered in New Zealand
News.com.au: Fossil of big walking bat discovered in New Zealand
The Japan Times: New Zealand sediment yields fossil of big walking bat from 16 million years ago
The Daily Mail: Large 'walking' bat roamed New Zealand's ancient rainforest 16m years ago
International Business Times UK: Fossilised bat 'three times the size of modern day relative' that walked on all fours discovered
Global Post: Fossil of big walking bat uncovered in New Zealand
Big News Network: Fossils reveal ancient walking bat species in New Zealand