A cart wheeling spider, a wasp with a killer maternal instinct and a feathered dinosaur are just some of the weird and wonderful organisms included in the top 10 new species of 2015, announced by the International Institute for Species Exploration this week.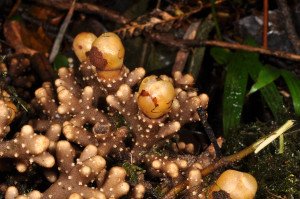 The Top 10 list was started by the Institute in 2008 to increase public awareness about the biodiversity crisis and to highlight the important role of taxonomy.
"The list highlights the most important, interesting and fascinating discoveries each year," said University of Auckland Professor Zhi-Qiang Zhang, a judge on the selection panel.
"It raises the awareness among the public of the importance of taxonomy – the science for discovering and classifying life on earth – to biodiversity conservation and sustainable use of our environment and natural resources."
With approximately 18,000 new species discovered in the last year, there was no shortage of candidates.
The 2015 list included a remarkable coral-like species found in a remote cloud forest in the Philippines by University of Canterbury scientist Dr Pieter Pelser and his colleague Dr Julie Barcelona.
The parasitic plant, Balanophora coralliformis, was seen in an unprotected mountainous area where there is a significant threat of illegal logging and slash-and-burn agriculture.
"You cannot protect plants and animals that you don't know exist. That is one of the reasons why taxonomy is such an important field of biology," Dr Barcelona explained.
Read more about their discovery on Scimex.org.
Media coverage of the story:
Radio NZ: Meet the world's top 10 new species
Stuff.co.nz: Cartwheeling spider discovered in Morocco
Wondering what the Top Ten looks like? The images below, provided by the International Institute for Species Exploration, showcase the newcomers.