The national Budget announced today reveals a number of announcements on research, science and innovation funding.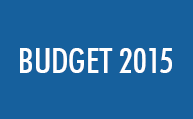 Some key initiatives announced in the budget include:
Up to $25 million over three years to support the establishment of new privately led Regional Research Institutes,
An $80 million operating boost over four years to R&D growth grants administered by Callaghan Innovation (announced in April),
$3 million in re-prioritised funding for science and innovation system performance report and data collection programme,
An additional $2.2 million for the implementation of the Science in Society strategic plan.
A new $1 million programme to attract multinational companies to undertake R&D in New Zealand
"The additional funding announced in Budget 2015 will bring the Government's total investment in science to more than $1.5 billion in 2015/16," Science and Innovation Minister Steven Joyce said in a media release.
Dr Nicola Gaston, President of the NZ Association of Scientists (NZAS), comments:
"The idea of privately-led regional research institutes to support economic development in the regions is consistent with the general focus of this government on the economic benefits of science and innovation, as is the increased investment in the R&D growth grants administered by Callaghan Innovation. The regional research institutes probably have a more genuine focus on the NZ economy, however, which is welcome given that the growth grants have been criticised in several quarters as looking more like a subsidy to multinational companies, that a real growth incentive for NZ businesses.
"The funding for the Science in Society project, which aims to improve the engagement of the NZ public with science and technology, is also a continuation of a previously announced programme, and a welcome one. Also welcome, is the new performance report and data collection system, to be funded at a cost of $3m over four years: the NZ Association of Scientists has consistently advocated for better data and increased transparency of the performance of our science system.

"In short: there are no surprises in this budget. The big shifts in funding are for previously announced funding measures, such as the National Science Challenges, which have yet to show any evidence of living up to expectations."
[Edit: comment amended due to an erroneous secondary source of information; the SMC takes responsibility for the error]
Shaun Hendy, Director of Te Punaha Matatini and Professor of Physics at the University of Auckland, comments:
"I am dubious about the value of subsidising multinationals to conduct R&D here. The literature I have seen suggests that multinationals are primarily attracted by the strength of the local R&D sector, and as ours is stretched very thin I wonder whether this subsidy will attract any really valuable R&D, or whether we'll see rather low-risk, pedestrian work carried out simply to milk the government of its subsidy. If we were serious about attracting multinational R&D we'd also be substantially increasing investment in our public sector science and innovation system."
"As expected, what new money there is has gone into private sector R&D and towards further targeting science and engineering degrees for the high-tech economy. However, I don't think it will really be enough to boost the growth in business R&D significantly above that which we have seen over the last few decades. Frankly this is business as usual for business R&D.
"I am pleased to see some effort going into reporting and data collection. However MoRST used to do considerably more of this than MBIE does now, so I hope that the majority of this funding is being reprioritised from MBIE's operating budget, not from elsewhere in the science and innovation system. I also hope this data will be made openly available for use by third parties.
Prof Caroline Saunders, Director,  Agribusiness and Economics Research Unit, Lincoln University, comments:
"I think the idea of regional research institutes would be a great idea to help facilitate research into economic growth in the regions.
"Care would have to be taken as to how these operate and not compete with existing capacity and capability as well as work alongside the existing economic development agencies in those regions."
Anthony Scott, Chief Executive, Science New Zealand, comments:
"Today's Budget strengthens areas critical to a productive, competitive economy: capability development in science and engineering, and supporting science and innovation investment into areas that will make a difference for New Zealand.
"The Government has carried through its election commitment to consider regional research institutes.  Government is setting aside up to $25 million over the next three years for one to three new privately-led regional research institutes for possible establishment over the next four to five years.
"CRIs will be keen to work with government on this process. Any new institutes should complement the CRIs and other existing providers' extensive existing regional networks and presence.
Prof Charles Eason, CEO of the Cawthron Institute, comments on the proposed Regional Research Institutes, which the government says should be "modelled along the lines of Nelson's Cawthron Institute."
"It was a surprise but we're pleased to have the recognition as an important contributor to regional economic development, social diversity and high-skill jobs.
"We've worked hard and with intention to get to where we are today, and we're proud of the work we do and the difference our research makes to our region's and New Zealand's environment and economy.
What role do you see Cawthron, and in theory the other Institutes, playing in regional development?
"We're keen to be part of a Regional Research Institutes network that would focus on scientific research relevant to a particular region as well as enabling export of research products and services outside the region. We want to support the establishment of these "sister organisations" and help them be successful in delivering benefits for their regions. We'd also be interested in opportunities for research collaboration, and can advise on our model which is different from Universities, CRI's and private industry and blends the best aspects of these.
"As one of Nelson's largest employers, with almost 200 scientists and specialist staff from more than 20 different countries, we have a significant impact on regional economic development through our research collaborations with the CRIs and major export industries that are based here including seafood and aquaculture. We also support science development through our community education and development programmes and partnerships with tertiary organisations. Each month around $1 million in Cawthron salaries is filtered out into the region and our staff are actively involved in and add a lot of value to the wider community."
What advice would you have for the hypothetical CEO's of the planned Institutes, to ensure their success?
"Because these institutes will be comparatively small like Cawthron first up they should be science led with a research leadership team that has a strong science background, preferably with commercial and private sector experience.
"They must pick researchers (like those at Cawthron) who have a real interest in just getting on with it. Not wasting time debating whether they are doing fundamental, applied or transformational research but just want to get out there and make a difference.
"They should look at their region and what it does well – work closely with the other CRIs based in those regions, collaborate with local industries  and build their research programmes around their region's current and future needs, while ensuring that aligns with what's happening at a national level. For us, we focus on water and food  research and related services – because that is what the top of the South excels at.
"It's not just about responding to current needs, it's also important to identify opportunities and future needs and challenges – for example 20 years ago we started working on breeding greenshell mussels because we knew if the industry wanted to grow it would need a reliable source of baby mussels, instead of their wild supply. Today that's a reality.
"Overall, they will need to be resilient, proactive, open-minded and collaborative. We certainly wouldn't be where we are today without the Government, industry and community support we've had right from the start."