In a study published earlier this week, University of Auckland scientists revealed a "rapid rise" in diagnoses for oropharyngeal cancer – a type of mouth cancer – in New Zealand men aged 40 and over.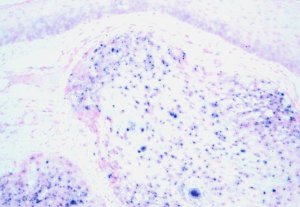 The researchers looked at trends in diagnoses of different types of mouth cancers in New Zealand between 1981 and 2010, comparing differences in ethnicity and social deprivation as well as gender and age.
The authors say that although its unclear what exactly is causing more men to develop oropharyngeal cancer, research in other countries leads them to suggest that the human papillomavirus (HPV) probably plays a role.
The study was published in the Australian and New Zealand Journal of Public Health.
The Science Media Centre collected the following expert commentary.
Prof. Alison Rich, Professor in Oral Pathology at the University of Otago, comments: 
"There does seem to be an increase in oropharyngeal squamous cell carcinoma (OPSCC) internationally over the last decade in patients who do not smoke tobacco or drink significant quantities of alcohol, factors traditionally associated with head and neck cancers. This subtype of OPSCC has been linked to certain types of HPV.
"In contrast to OPSCC, HPV infection is infrequently associated with oral cancer (squamous cell carcinoma of the mucosal surface of the lips, the buccal mucosa, the anterior 2/3 of the tongue, the floor of mouth, gingiva and hard palate).
"The most important recommendations relating to prevention of oral cancer continue to relate to avoidance of tobacco products and moderation in alcohol consumption, along with ensuring protection from sun damage if skin of the lip in considered in the spectrum of oral cancer. In addition regular self-inspection of the oral mucosa and regular dental attendance, so as the oral mucosa can be examined with good light and with access to all parts of the oral mucosa is very important since early detection of a potentially malignant oral lesion (usually a persistent white or red patch on the oral mucosa) can lead to early diagnosis and a realistic chance of cure with minimum morbidity."