The recent treatment of  two Ebola-infected US aid workers with experimental medicine has raised questions about whether medicines not proven to be safe in people should be used in the outbreak and who should be given priority for treatment. Currently there are no registered medicines or vaccines against the virus, only several experimental options that are still under development.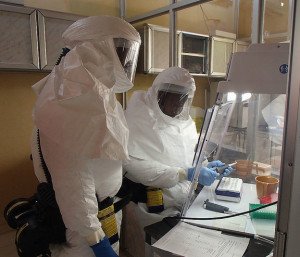 Next week, the World Health Organization (WHO) plan to address this by convening a panel of medical ethicists to explore the use of experimental treatment in the ongoing Ebola outbreak in West Africa.
Our colleagues at the UK SMC collected the following expert commentary. Feel free to use these quotes in your reporting. If you would like to contact a New Zealand expert, please contact the SMC (04 499 5476; smc@sciencemediacentre.co.nz).
Prof Tom Solomon, Director of the NIHR Health Protection Research Unit in Emerging and Zoonotic Infections, and Director of the Institute of Infection and Global Health, University of Liverpool, comments:
"Doctors often use drugs on a compassionate basis, to treat medical conditions for which the drugs have not been evaluated. However the difference here is that some of these new treatments have not been evaluated at all. For all new drugs there is always a "first in man" study, where the drug is given to a human for the first time. The difference here is the desire for this "first in man" experiment to be for a patient with the disease. What is key is that if these new experimental drugs are going to be used, then this should only be done in the context of a clinical trial. Otherwise the worry is that we will have tried these drugs, including putting people through the potential risk of experimental treatments, and still be none the wiser about which are effective. Within our Health Protection Research Unit we have teams experienced in setting up drug trials in challenging settings overseas, including using antiviral drugs, and treating haemorrhagic fevers. We look to those who have developed the drugs to make them available, and to the international funders to support such research so we can work with our African partner organisations to assess these new drugs, and try to save lives."
Dr Jeremy Farrar, Director of the Wellcome Trust, comments:
"This announcement from the WHO is a very welcome step in the right direction. The ethical considerations involved are critical and it is right they are addressed in a responsible and transparent way. It is also essential that rigorous protocols for the study of experimental interventions are developed quickly so that African countries have the same opportunities to consider them that western ones would, and that there is equitable access to any that prove effective. We must also remember that while we can likely provide safety data from anywhere in the world, we can only assess whether a vaccine or drug works for Ebola by using it in affected countries with the consent of individuals and communities concerned."
Prof Jonathan Ball, Professor of Molecular Virology, University of Nottingham, comments:
"Giving unlicensed and untested (at least in humans) treatments and vaccines is a very thorny ethical issue.
The infected US healthcare workers are receiving a type of treatment (antibodies that specifically target the virus) that has a reasonably long safety track record, so it isn't surprising – given the high fatality rate in the current outbreak – that they are happy to receive the therapy.
"But not all drugs are safe – that's why we have very stringent clinical trials. One could argue that the current outbreak provides a perfect arena in which to test new drugs, but that isn't without risk. We don't know their safety, we don't know if they are likely to work – sure they have been tested in animals but these studies don't always tell us what will happen in humans.
"Also, who do you give the drugs to – infected people from the general populace, or healthcare workers battling in the frontline? Restricting treatment only to healthcare workers and volunteers could be seen as unethical, but treating the larger number of local infected people isn't easy; the supply isn't large enough and trying untested treatments that may or may not work and may or may not be safe might reverse all the efforts made building trust and goodwill.
"At the end of the day, good infection control is what is going to beat this virus."
Prof Paul Hunter, Professor of Health Protection, University of East Anglia, comments:
"I welcome the latest initiative from the World Health Organization to convene the group of ethicists to discuss using experimental therapies in the management of Ebola. Given the likely outcome in most patients with infection without specific therapy, I think that most doctors would want to try such therapies for their patients and for themselves if infected. The current system of ethical review of trials of medical interventions have made substantial contributions to protection patients from potentially ineffective or harmful treatments. However, it would be intolerable if this system was so inflexible that it contributed to the deaths of patients who could be saved.
"In my view the ethical case is unequivocal. If a patient is likely to die and an experimental therapy has a reasonable chance to prevent death then it should be given. However, this does not mean that any old drug could be given. For an experimental compound to be given there should be good prior evidence that the therapy will work, the patient or his relatives should give informed consent wherever possible and whenever the therapy is given proper records must be kept and the outcome reported to WHO. Ideally the WHO should produce a list as soon as possible of experimental drugs/therapies where there is sufficient evidence for them to be considered."
Prof David Heymann, Professor of Infectious Disease Epidemiology, London School of Hygiene & Tropical Medicine, comments:
"The ethics of research must be a national decision, and countries that require support in making that decision need guidance from international organisations such as the WHO. The decision will be based on several factors that countries deem important such as risk/benefit and usual human subjects research standards. These discussions must be held in full transparency with all the evidence known from previous or current R and D."