The long-awaited publication of the Psa-V genome has been widely reported in the news.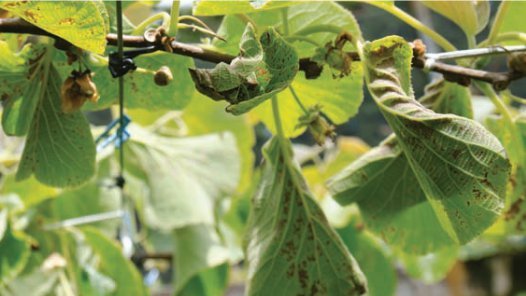 The research, under taken by Prof Russel Poutler and Colleagues at the University of Otago, was published this week in PLoS ONE.
The new study confirms a Chinese origin for the bacteria and reveals gentic clues about why this variant of the plant disease has devastated New Zealand crops.
You can read more information about the study and expert commentary here.
Origin identified, but not route.
Further controversy over the kiwifruit disease ensued when New Zealand First leader Hon Winston Peters claimed the research indicted a particular pollen supplier as the source of the initial Psa incursion. On Wednesday — before the official publication of the research — Mr Peters issued a statement saying, "It is understood that Otago University associate professor Russell Poulter undertook genetic analysis to trace the Psa bacteria which he found had entered New Zealand from China through Kiwi Pollen Ltd".
Prof Poulter has rejected this claim, explaining to Sun Live that while the research did indicate a Chinese origin for the strain of bacteria, it did not determine how it got into the country.
Mr Peters later retracted his statement and told Radio NZ that neither he nor his staff have read Dr Poulter's article published in PLoS ONE and would not have made the mistake if they had.
Selected media coverage:
Radio New Zealand: PSA-V came to NZ from China
NZX Agri News: Psa origin tracked
New Zealand Herald: Te Puke takes $100m hit from PSA
Rotorua Daily Post: Court case may follow discovery of PSA source
TVNZ: DNA research confirms PSA came directly from China
Newstalk ZB: Kiwifruit Psa came from China, study concludes
Radio Rhema: Kiwifruit PSA disease outbreak originates in China
Yahoo! New Zealand: Psa kiwifruit vine disease origins mapped
SunLive: Psa source: court action considered
Xinhua News: New Zealand genome study traces kiwifruit killing disease back to China
Otago Daily Times: Otago research tracks kiwifruit disease to China
NZ Herald News: Origins of kiwifruit disease Psa uncovered
Stuff.co.nz (and other Fairfax papers): Psa kiwifruit disease outbreaks originated in China