Kiwi scientists have developed a clever way of identifying the origins of milk and milk powder, offering a new tool in the targeting of offshore milk derivatives attempting to brand themselves as New Zealand products.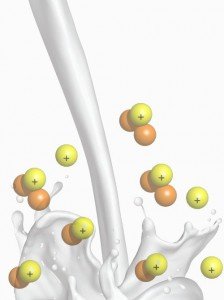 The new technique relies on the fact that not all hydrogen atoms are the same, there are different variants – or isotopes – of the element, with some carrying more neutrons than others. Researchers from GNS Science and University of Otago were able to identify the pattern of hydrogen isotopes in milk and match this to the isotope pattern in the rain fall in a given area of the country.
You can read the full research, published in the journal Geochimica et Cosmochimica Acta, here and a media release from GNS Science is available here.
Media coverage includes:
TVNZ News: Scientists crackdown on imitation milk products
Otago Daily Times: Milk identification process boon to NZ
New Zealand Herald: Kiwi scientists discover way to identify fake milk powder