DOC workers who spent their New Year's Eve examining two odd-looking whales stranded on a New Zealand beach can be forgiven for not immediately identifying the species as the incredibility rare spade-toothed beaked whale; it was the first time the species had ever been seen.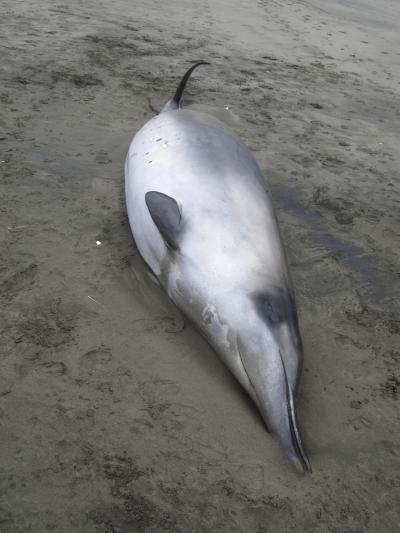 A study published this week in the journal Current Biology details the scientific journey undertaken to show that the whales were members of the rare species, only previously identified from bone fragments.
On December 31, 2010, a female whale (5.3m long) and male calf (3.5m) stranded and later died on Opape Beach in the Bay of Plenty, New Zealand. After death they were measured, photographed and tissue samples were taken by the Department of Conservation.
The animals were initially misidentified as Gray's beaked whales, the most common beaked whale to strand in New Zealand. However subsequent genetic analysis at The University of Auckland revealed that they were spade-toothed beaked whales (Mesoplodon traversii).
Until now the only evidence for the species' existence came from three skull and jaw fragments found around New Zealand and Robinson Crusoe Island, Chile.
"This is the first time a spade-toothed beaked whale has been seen as a complete specimen, and we were lucky enough to find two of them," lead scientist Dr Rochelle Constantine said in a University of Auckland media release.
"It's incredible to think that, until recently, such a large animal was concealed in the South Pacific Ocean and shows how little we know about ocean biodiversity."
As Dr Constantine and her colleagues  conclude in the research article, "We can now confirm that the spade-toothed whale is extant, and for the first time we have a description of the world's rarest and perhaps most enigmatic marine mammal."
The 'worlds rarest whale' has received extensive international coverage. Examples include:
The Australian: Whales stranded in NZ 'world's rarest'
Wired: World's rarest whale washes up on beach in New Zealand
Fox News: Scientists use DNA to ID rarest whale
LA Times: World's rarest whale species shows up on New Zealand beach
TODAYonline:  World's rarest whale seen for the first time
Scientific American: World's rarest whale seen for first time: Spade-toothed whale
The West Australian: World's rarest whale spotted for first time
Daily Mail: Rare spade-toothed beaked whale seen for first time after it's beached with calf in New Zealand
The Telegraph: World's rarest whale seen for first time
The Guardian: First ever sighting of world's rarest whale on New Zealand coast
New Zealand Coverage:
Radio New Zealand: Dead whales found to be rare species
3 News: World's rarest whale stranded on NZ beach
TVNZ News: NZ scientists make world's rarest whale discovery
Stuff.co.nz: Scientists see world's rarest whale
NZ Herald News: World's rarest whale sighted for first time
Radio Rhema: World's rarest whale
MSN News NZ: Scientists confirm whales world's rarest
SunLive: Bay beached whales world's rarest
Bay of Plenty Times: Bay whale rarest in world