After many months of waiting, the Square Kilometre Array (SKA) Organisation has finally announced that the massive telescope array will be shared between Australia-NZ and South Africa.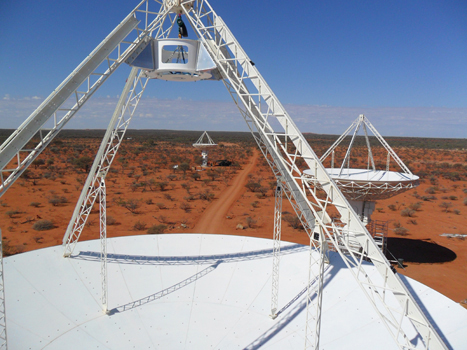 The SKA Organisation made the announcement late on Friday at a meeting in Amsterdam. See the announcement here. More information and images are available on the Australian SKA website
The Science Media Centre contacted experts for further comment:
Associate Professor Mike Reid, Acting Head of the Department of Physics and Astronomy, University of Canterbury, comments:
"This is an amazing opportunity for our scientists and engineers – current and future – to be involved in the biggest global science project for several decades.
"We are perfectly positioned to take this collaboration to the next level, with our staff and students now having the opportunity to be involved in multi-wavelength research using state-of-the-art facilities to understand the Universe right back to its beginnings about 14 billion years ago.
"Adding 'radio' eyes to what we can see with large optical telescopes will add another dimension to the science that we can undertake. We look forward to working with our New Zealand colleagues on the SKA project and to explore ways in which other New Zealand institutions can access SALT through Canterbury's visionary initiative more than a decade ago."
[University of Canterbury already has a long-term collaboration with South Africa through its founding partnership in the Southern African Large Telescope (SALT) in 2000.  SALT is an 11m optical telescope that is located in South Africa.]
Dr Melanie Johnston-Hollitt , Chair of the New Zealand SKA Research & Development Consortium and Radio Astronomy Group Leader, Victoria University, comments:
"New Zealand is involved in a mega science project. I think the decision is a huge win for science.
"Regarding sharing with South Africa, I do not think New Zealand's involvement has been diminished
"We are pretty well placed in terms of the science, all opportunities for phase one are still in place and New Zealand and Australia will still be taking on the low frequency aperture array – although there will be some changes moving forward

"This is a chance for our scientists to interact with the world's best and be centre stage on the science."
Our friends at the Aus SMC collected the following expert commentary.

Dr Lisa Harvey-Smith, CSIRO SKA Project Scientist with CSIRO Astronomy & Space Science, comments: 
"I welcome the SKA Organisation's announcement of a dual-site implementation for the telescope in Australasia and Southern Africa. This solution leverages the considerable investment made by both parties, whilst boosting the commitment to developing the planned high-tech components of the array.
"Now this important milestone has been reached, it is time to focus on the detailed design and implementation of the project. I look forward to sharing this journey of astronomical discovery with all the international partners in this exciting global science project."
Professor Bryan Gaensler, Director of the Centre for All-sky Astrophysics, Sydney University, and was formerly the International Project Scientist for the Square Kilometre Array, comments:
"The Square Kilometre Array is a concept that's been slowly growing and evolving since 1991. But today this ambitious project took a sudden giant leap towards reality with the announcement of the SKA site decision. The decision is a complex one, which recognises the enormous amount of international investment that will be needed to make the SKA happen: the array will be split between Africa and Australia/New Zealand.
"What this does not mean is that half the telescope will be built in each continent. Each site gets a full square kilometre of collecting area, with the full scientific functionality originally envisaged. However, the SKA's science goals require a facility that can tune into radio waves ranging from 70 MHz up to above 10,000 MHz. It's impossible for any single technology to cover this vast range, so the plan has always been to build two or even three different types of antennas, which together can span the full range needed. 
"What the SKA project has decided is to put different technologies in different places, playing to the strengths of each site.
"The lowest frequency component, consisting of antennas that do not move or steer and that can collect signals from the whole sky at once, will be built in Australia and New Zealand. This capitalises on the superb radio quietness of the SKA core planned for Murchison in outback Western Australia – one of the few places on the planet that isn't polluted by FM radio and other artificial signals in this low frequency band.
"The higher frequency technology, consisting of more traditional steerable dishes like the one at Parkes, will be built in Africa. This naturally extends on the MeerKAT array of dishes already under construction at the SKA core site in the Karoo desert region of South Africa.
"The remaining piece of the puzzle are "phased array feeds", the fish-eye lens technology being developed by CSIRO for their Australian SKA Pathfinder (ASKAP) in Western Australia. These will be further developed and expanded in Australia and NZ, and then possibly later installed on dishes in Africa. Aus/NZ technology on an African telescope is truly a win-win scenario.
"Going forward, what this all means is that the money committed to construction by all the SKA's international partners can now begin to flow. The hard-working engineers and scientists in Aus/NZ and in Africa can go back to collaborating rather than competing. And the SKA will attract brilliant young researchers from around the world to help solve the daunting technological challenges ahead of us.
"Few people will appreciate the small teams at the heart of the two site bids who have sunk years of their lives into this project. For Australia and NZ, special mention must go to the extraordinary CSIRO team lead by Brian Boyle, Michelle Storey, Phil Diamond and Lisa Harvey-Smith, who made a superb case for Aus/NZ to host the SKA. Africa, led by Justin Jonas and Bernie Fanaroff, must also be congratulated, for creating a thriving African radio astronomy community and a stellar SKA site bid from scratch in barely 10 years. The governments involved have also all been extremely supportive: a positive sign that amidst all the other pressures and challenges, basic research and cosmic discovery still have a place in our nations' priorities.
"I am excited that the SKA now looks like it's really going to happen. I can't wait to point it at my  favourite stars and galaxies, and to get the data in my hands!"
———–
Jonathan Nally, editor of Australian space news web site, SpaceInfo.com.au comments:
"Today's SKA decision is a sensible solution to the quandry of trying to choose between two very equal bids.
"Significant precursor work has been done in both Australia and in South Africa … on sites, facilities and telescope technology. It makes sense to take the best of these developments and continue to progress them.
"In Australia, a huge development effort by governments, the CSIRO and universities has seen a number of new radio telescopes already built, or soon to be finished, in Western Australia — including ASKAP, the Australian Square Kilometre Pathfinder, which is to be equipped with unique and world-leading CSIRO antenna technology that dramatically boosts the efficiencies of radio telescopes. Even before it has begun operating, ASKAP's first five years of operations are completely booked out by teams from Australia and around the world. ASKAP will form the kernel of much of the Australian share of the split SKA.
"By necessity, big science these days is an international affair, and both Australian scientists and the worldwide scientific community will benefit greatly from the development of the SKA and the unforeseen discoveries it will bring."
From the UK SMC:
Dr Stephen Serjeant, Head of Astronomy and Reader in Cosmology at The Open University, comments:
"This was always going to be an extremely difficult and finely-balanced decision, given that both the Australian and the South African bids were extremely strong, with excellent governmental support, existing investment in precursor telescopes, plus very fine protected sites for radio astronomy perfect for the SKA location.  This split site decision will involve some increased complication and cost, but both bids have managed to build tremendous national and international momentum and support, so any single-site decision would have been a very bitter blow to one community.
"I'm confident that the SKA split-site decision will be to the lasting benefit of astronomy as a whole, as well as to the industrial bases in all the hosting countries.  The SKA itself will revolutionise many areas of fundamental science, from cosmology to fundamental physics to the birth of planets to the first light in the Universe."