Did you know that 96 percent of New Zealand is underwater?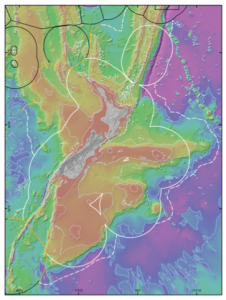 New Zealand's ocean territory is vast. Its EEZ (Exclusive Economic Zone) stretches across an area twenty times greater than its dry land.  Scientific surveying allowed the country to expand its claim further in 2008, giving it rights to additional seabed minerals and resources. 
But with this growth has come widespread recognition that there are gaps in the environmental laws that cover this ocean territory.
Legislation targeting environmental impacts from marine resource use in the EEZ is currently before parliament, with the Local Government and Environment Select Committee releasing a report on the bill this week.
An Emerging Issues paper on the topic of 'Future marine resource use'  has been released by the Royal Society of New Zealand. The paper draws together scientific expertise on key issues relating to marine minerals, energy, biodiversity and other resources.
A copy of the paper is available here.
The Science Media Centre hosted a media briefing examining issues like marine oil and gas, undersea mining, fisheries, bioprospecting, environmental risks and more. 
Listen to the briefing audio here:
Issues covered:
What is the EEZ and why should we care about it?
What's out there and how much remains unexplored?
What kind of mineral wealth, living resources, and energy potential can we tap?
How do we decide what to protect and how best to preserve it?
Briefing Participants:
Dr Michael Vincent McGinnis is an Associate Professor in International Marine Policy and Science at the Monterey Institute of International Studies and the National Center for the Blue Economy in California, USA. He is also a Senior Associate of the Institute of Policy Studies at Victoria University of Wellington and author of a recently completed report on ocean governance in New Zealand.
Dr Cornel de Ronde is a geologist and geochemist at GNS Science. He was leader of the six-year Mineral Wealth of New Zealand EEZ programme. His research has focused on off-shore mineral resources associated with submarine volcanoes and hydrothermal vents.
Prof Chris Battershill holds the inaugural Chair of Coastal Science at the University of Waikato, with prior experience at the Australian Institute of Marine Science, the Department of Conservation and NIWA, His research interests include environmental toxicology, marine invasive species,biodiscovery, marine resource exploration, and predicting environmental effects associated with the oil and gas industry.