Heavy rainfall has caused extensive flooding across southern New South Wales and North East Victoria, forcing several communities to evacuate.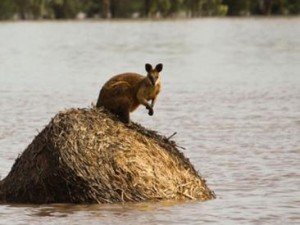 Widespread, and persistent recordbreaking rainfall was recorded across southeast Australia between 27 February and 5 March 2012, leading to heavy flooding across southeast Australia.  So far, 13,000 people are reported to have been evacuated from their homes in NSW, the majority of them from the town of Wagga Wagga, 475km south west of Sydney.
The heavy rainfall has been largely attributed to the La Nina weather pattern.
News, updates and emergency information regarding the flooding are available on the ABC website.
The Bureau of Meteorology has just released a Special Climate Statement on the exceptional heavy rainfall across southeast Australia.
The Australian Science Media Centre collected following expert commentary. Feel free to use these quotes in your stories.  If you would like to speak to a New Zealand expert, please don't hesitate to contact us (04 4995476; smc@sciencemediacentre.co.nz)
Dr Andrew Watkins is Manager of Climate Prediction at the National Climate Centre,  Bureau of Meteorology
"Explaining the high levels of rainfall over South Eastern Australian is not as simple as putting it down to just the effects of a La Nina system. La Nina has been backing off quite rapidly over the last few weeks with the Southern Oscillation Index (one of the indicators the development and intensity of El Niño or La Niña events in the Pacific Ocean) dipping back into neutral territory.
"However we still have some warm ocean temperatures around Australia which are clearly playing a role in what we are seeing at the moment. Temperatures in the Coral Sea are around half a degree warmer than average and the southern half of Western Australia is also experiencing near record warm sea surface temperatures. The high pressure systems we have seen of late have also tended to be further south than usual which can lead to more rainfall across the south east. The recent trough that extended down from the tropics was influenced by one of these highs, and lingered longer than normal across inland areas. The chaotic nature of weather also means that sheer randomness will always plays a part in how much rain will fall during any event."
Dr Rob Roggema is Senior Research Fellow at Sustainable Urban and Regional Futures (SURF), Global Cities Research Institute, RMIT University. He was the inaugural international visiting fellow at the Victorian Centre for Climate Change Adaptation Research Centre (2010-2011)
"We cannot control the amount of rainfall. However, in dealing with the rainfall, and preventing it turning into floods, we could and should do much more. Our cities, villages and landscapes are designed in ways that create and exaggerate floods. By trying to discharge rainwater as quickly as possible we create flash flooding and inundations in areas where we don't want it to happen.
"We should change our urban and landscape design to create spaces where large amounts of water can be temporarily stored. After the rain has gone the water can then be released at a slow pace. These areas can be designed as nature reserves, 'green' rivers or public spaces, which are filled up in times of heavy rain and can be emptied after the peak flood risk has passed. This way landscapes can function as a sponge and no longer as a drain. The idea to remove vegetation from riverbeds is contradictory with increasing flood resiliency."