The US Food and Drug Administration (FDA) has added diabetes and memory loss to the list of side effects for cholesterol-lowering drugs known as statins.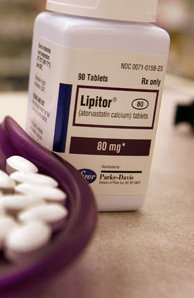 This week the governing body for pharmaceuticals in the US, the FDA, announced it was adding several side effects to the information required to be made available with statins, a group cholesterol lowering drugs used to lower the risk of stroke and heart attacks. The move has not gone unnoticed by New Zealand authorities, who will be reviewing drug information provided with statins in New Zealand (see below).
Statin drugs include atorvastatin (Lipitor), lovastatin (Mevacor) and simvastatin (Zorcor).
The FDA's labelling changes were based on a review of new peer-reviewed research and post marketing reports that highlighted the previously-unidentified risks associated with statin use.
"We want health care professionals and patients to have the most current information on the risks of statins",  Said Dr Mary Parks, the FDA's Center for Drug Evaluation and Research, "but also to assure them that these medications continue to provide an important health benefit of lowering cholesterol"
New information required to be included with the drugs in the US, as stated by the FDA includes:
"Certain cognitive (brain-related) effects have been reported with statin use. Statin labels will now include information about some patients experiencing memory loss and confusion. These reports generally have not been serious and the patients' symptoms were reversed by stopping the statin. However, patients should still alert their health care professional if these symptoms occur."
"Increases in blood sugar levels (hyperglycemia) have been reported with statin use. The FDA is also aware of studies showing that patients being treated with statins may have a small increased risk of increased blood sugar levels and of being diagnosed with type 2 diabetes mellitus. The labels will now warn healthcare professionals and patients of this potential risk."
The FDA also updated guidelines for monitoring liver complications and warnings regarding combining some statins with other medications.
Statins in NZ
Fairfax NZ News reported that Medsafe, New Zealand's medicines regulatory body,  is conducting a review of statin use in the wake of the FDA changes.
The National Heart Foundation's medical director, Norman Sharpe, told Fairfax News that there was worldwide agreement that statins should be given to people for high risk primary prevention, saying, "In NZ there are more than 300,000 people now on regular statins which is approaching the number expected in the high risk categories. However, this number will include many people at relatively low risk who may receive little benefit."
Previous (2011) SMC commentary on statin use from Dr Sharpe can be found here.