A campaign has begun in Britain for a memorial there to the scientist who led  New Zealand's contribution to the International Geophysical Year (IGY), 1957-58,  which enabled  scientists from around the world to take part in coordinated earth science studies.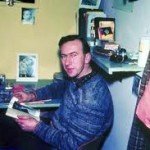 A British geophysicist who later became a noted  scientific administrator, and Antarctic researcher,  Dr Trevor Hatherton won the New Zealand's first national research scholarship offered to overseas scientists to work here and joined the DSIR in 1950.
Dr Hatherton made a December 1955 reconnaissance on foot over the sea ice of McMurdo Sound to select a site for New Zealand's base. The inital  six huts at Scott Base were to house both the support party for the Commonwealth Trans-Antarctic Expedition, and Royal Society International Geophysical Year Expedition.
Sir Edmund Hillary was the first Scott Base commander and Dr Hatherton the scientific leader from December 1956 to February 1958. He published work on the aurora australis, glaciology and the seismicity of the Ross Sea area.
As president of the nation's science academy, the Royal Society, from 1985 to 1989, Dr Hatherton argued that its scientists should involve themselves in matters of public concern, a view that led to reports on problems of lead in the environment, on climate change, science education, and the issue of drugs and medicines in sport.
In Britain, Dr Hatherton's cousin, Richard Burrough, is campaigning to get a "historic place" plaque erected on the scientist's boyhood home in Yorkshire, and Dr Hatherton's  daughter Kate Carnaby said: "As a young boy he read about Scott and Ross and Shackleton. "The heroic age when people went exploring in the Antarctic and I think it fired his imagination. He decided when he was quite young that he would quite like to get down to the Antarctic."
Mr Burrough told the BBC:  "It's important that this community know about Trevor. That somebody who is the son of a miner can get so far in life."
After his return from the South Pole Dr  Hatherton continued his distinguished scientific career, with a series of fellowships — including one as a visiting professor of geophysics at Stanford University — and he later became a hugely-productive director of the DSIR's geophysics division.
Dr Hatherton was appointed an OBE by the NZ Government,  and had an Antarctic glacier named in his honour, and in 1989 the refurbished physical laboratory at Scott Base was renamed the Hatherton Geomagnetic Laboratory in his honour.  He died in New Zealand in 1992 at the age of 67.
Radio New Zealand's Kathryn Ryan recently traveled to Antarctica, producing a series of  podcasts, including one on Antarctic history. You can listen to them here.
– Kent Atkinson