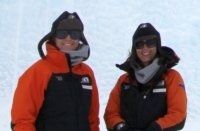 In early December 2011 Nine to Noon's presenter Kathryn Ryan and producer, Caitlin Cherry were invited by Antarctica New Zealand to visit Scott Base on Ross island in Antarctica.
You can listen to the resulting podcasts below and on the Radio New Zealand website. Clicking on the links will take you the Radio NZ site where you can view image galleries and more information about each story.
Ice fishing with Clive Evans – Biologist Clive Evans takes Kathryn Ryan out to the sea ice off Ross Island to catch some Notothenioid fish, which they use to try to work out how they make anti-freeze and what this can teach us.

Arrival Heights Laboratory – The Arrival Heights Laboratory houses equipment for atmospheric experiments, low frequency radar and aurora studies for universities and other research groups. Science technician Shane Buckham showed Kathryn Ryan around the lab and described the various pieces of equipment.

Scott's Hut at Cape Evans – Kathryn Ryan visited Scott's Terra Nova Hut at Cape Evans and was shown around the hut by Al Fastier, the programme manager for the Antarctic Heritage Trust, and his colleague Lizzie Meek, the artefacts manager.

History & future of the continent – Kathryn Ryan speaks to the chief executive of Antarctica New Zealand, Lou Sanson about the history and future of Antarctica, including the historic polar race 100 years ago and the role New Zealand played.

Adelie penguins – The evolutionary past of the Adelie penguin and how climate change has affected them.

Turtle Rock – Kathryn Ryan visits sea ice scientist Andrew Martin at his field camp about 20 kilometres from Scott base, where he and a team have been taking samples of the sea ice to assess the impact of climate change at the very start of the food chain.