To many New Zealanders rugby is more than just a sport, but maybe we need to lighten up if we want to enjoy it.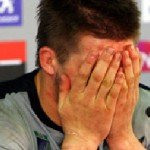 Dominion Post journalist Michelle Duff caught up with Canterbury University sports sociologist Camilla Obel to talk about rugby, the national psyche and the typical All blacks fan.
An excerpt (read in full here):
Rugby's just a game, warns researcher
Kiwi rugby fans need to stop being so staunch and serious, and enjoy watching the All Blacks with some humour – or the nation will be plunged into mourning if we lose, a sports sociologist says.
Canterbury University rugby researcher Camilla Obel says the best defence New Zealanders can have against an All Blacks loss is to approach rugby like fans overseas, and appreciate the game for its entertainment value.
Instead, the typical All Blacks fan has a major emotional investment in the game that has become part of our social fabric, and takes the outcome of matches far too seriously.
"There will be different levels of disappointment, but I think it will be felt quite strongly and definitely there will be repercussions," Dr Obel said yesterday.
"All these terrible things we had the last couple of times, like poor John Hart got hung out hugely. Some self-irony would be amazing, because people are so serious and staunch about rugby and sometimes we need to just laugh about it a bit."