As rioting continues in London and other UK cities, the public are left wondering how the mob mentality of a riot develops – and how authorities can effectively respond.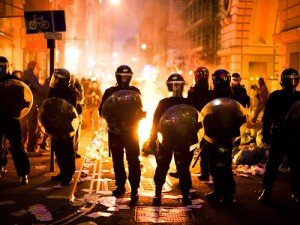 Sparked by the death of a young man in North London, the riots have seen hundreds of youths take to the streets across the UK. While initially a protest, the movement has degenerated into looting, arson and violence.
You find out more on the UK riots and follow developments here.
In light of the seemingly mindless violence, the question of how such a situation could have developed has been raised.  Our colleagues at the Australian and UK SMCs gathered the following commentary from an expert in crowd psychology.
Updated: Expert reaction to the riots in London and other UK cities:
Professor Clifford Stott, Senior Lecturer in Crowd Psychology, Department of Applied Psychology, University of Liverpool, said:
"The difficulty we are faced with, as a society in the context of a 'politics of riot', is that meaningful dialogue to address this important question is almost impossible.
"What dominate at present are vitriolic debates loaded with moral indignation that are as much about pathologising crowd action, attributing blame and denying responsibility as they are about truth and objectivity. But this transition from peaceful to riotous crowds is, of course, one of the fundamental questions of crowd psychology.
"In addressing it over the last 30 years my colleagues and I have made some important advances in scientific understanding of how and why riots come about.
"Of central importance is that we know that 'riots' cannot be understood as an explosion of 'mob 'irrationality'. Nor can they be adequately explained in terms of individuals predisposed to criminality by nature of their pathological disposition. To render crowd action as meaningful and driven to a large degree by contextual issues is not to act as an apologist for these riots. Nor is it to accept as legitimate the attacks against ordinary working class people, businesses, homes and families.
"In fact work at the University of Liverpool has played an important role in developing policing methods that prevent riots from happening. Our science also underpins many of the recent recommendations made by the HMIC following the death of Ian Tomlinson during the G20 protests. These approaches do not rely on the reactive use of force.  Instead they prioritize proactive interventions based upon dialogue as a means for building and maintaining police legitimacy
"Our argument then is that to render the riots meaningless is actually to deny the opportunity that we must take to understand them if we are to take the appropriate measures that will prevent them in the future."
Dr Binoy Kampmark, Lecturer in the School of Global Studies, Social Science and Planning at RMIT University in Melbourne.
Dr Kampmark's research focuses on history, international security and international relations. He was a Commonwealth Scholar at Selwyn College, Cambridge.
"London is now reading like an alphabet of violent disorder and dishevelment, where looting and burning has become prevalent. Peckham, Ladbroke Grove, Ealing, Catford, Bethnal Green, Chalk Farm, East Dulwich, Lewisham, Clapham and Tottenham, the site of the fatal Mark Duggan shooting. The violence has now spread to other parts of England.
"In 1981 and 1985, rioting broke out in parts of England (Liverpool, Brixton, Leeds) because of allegations of police brutality against blacks and institutionalised racism, a finding that was confirmed in the 1999 Macpherson Report. The Met has, however, been reformed since then.
"What are the reasons for this violence? The Cameron government's austerity measures?  Police brutality?  A fateful recent reminder: Brazilian Jean Charles de Menezes in 2005 was gunned down by police at Stockwell tube station in a manner that was, to use the language of those describing these current riots, 'mindless'.
"The Duggan killing is a pretext for a diffuse array of excuses and causes. A 2010 government report into various gangland killings found dereliction and dilapidation through entire communities and cities in England.  There is rampant unemployment of youths between 16 and 24 (up to a million), the worst since the Thatcher years.
"But others see no manifesto, no coherence. Anti-globalisation protesters would attack chain stores and corporate networks – but here, independent local stores have been looted.  This is the social media generation run wild, a case of, in the views of historian Ted Vallance, kindergarten rules pretending to be ideology: finders, keepers."