The Science Media Centre today held a press briefing to release new information about the chemical make-up of synthetic cannabis products.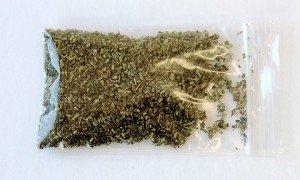 Crown Research Institute ESR has been testing all available varieties of herbal smoking blends treated with legal, psychoactive synthetic cannabinoids. While the cannabinoid JWH-018 is one chemical speculated to be in the products, there are other substances included in some blends.
Two weeks ago, ESR's testing revealed that some products contained the controlled sedative drug phenazepam, resulting in product recalls.
Today the final details of ESR's survey of synthetic cannabis brands were released.
The Science Media Centre hosted an online briefing on synthetic cannabis in which Dr Paul Fitzmaurice (ESR) explained the new findings and the implications for workplace drug testing.
Dr Leo Schep (National Poisons Centre, Otago University) related the current understanding – or lack thereof – on the clinical effects of synthetic cannabinoids and Dr Keith Bedford (ESR) also answered queries from journalists.
Click below to listen to the audio from today's briefing.
You can download the audio here, presenter slides and further documents can be accessed in the resource library.
Below is a release from ESR on the new data.
ESR workplace drug testing programme synthetic cannabinoid study
July 11, 2011
ESR workplace drug testing programme undertook a survey of synthetic cannabinoid products to try and establish exactly what chemicals were in the 40 plus 'legal highs" available for sale in New Zealand.
We were aware that employers, particularly in safety sensitive industries have become increasingly concerned about the effects of these legal highs on employees. Users of synthetic cannabis products have boasted publicly that they can take the products and pass a drug test. Up until now testing for synthetic cannabinoids has not been available in New Zealand.
To enable ESR to offer synthetic cannabinoid testing we needed to understand what types of chemicals were being used in preparations available for sale. ESR is now offering commercial testing for synthetic cannabinoids to workplace drug testing clients.
ESR wishes to highlight that the survey was a snapshot of the drugs available in May and June 2011. Even since these products were purchased for analysis, manufacturers may well have changed the mix of 'ingredients' they are using in their products, or their method of manufacture. Other work undertaken by ESR has also indicated that the mix of active chemical ingredients even in particular brands may not be consistent.
Media reports in the last couple of weeks suggest that the makers of legal highs in New Zealand have various ways of making the product and are sourcing the base synthetic cannabinoids from not only different suppliers in China but are now sourcing, or planning to source their chemical mixes from laboratories in Thailand and Mexico.
We have seen media reports of these legal highs being made by taking a mix of various garden plants and then being sprayed with a chemical mix, or mixed with additive-containing solvent.
This means there is likely to be significant inconsistency in the chemical levels on any batch of plant material made into a 'legal high'. Users could be receiving quite different doses of chemicals from packet to packet of the same product.
Synthetic cannabinoids
– Developed in the last 15 years
– Are experimental chemicals synthesised in the course of studies aimed at understanding the effects of tetrahydrocannabinol (THC) the main active constituent of cannabis
– Very little scientific knowledge about their wider effects (e.g. from chronic use or with vulnerable populations such as pregnant users)
– Virtually no scientific or medical knowledge on the effects when different chemical components are mixed
– Up to about 30 synthetic cannabinoids thought to be circulating worldwide and many more have been reported in the scientific literature
– JWH018 is the most studied but even with this substance the available information is incomplete. For some of the others very little is known about them.
– Worldwide there is an enormous lack of scientific or medical knowledge about them
– Media reports suggest that New Zealand manufacturers are major suppliers to the Australian market through online and other sales.
What the ESR survey found
ESR identified eleven different synthetic cannabinoids in the samples, with another two as yet unidentified synthetic cannabinoid compounds found in 'Juicy Puff Super Strength'.
Ten of the products had four or more different synthetic cannabinoids chemicals in the sample tested. These products had a range of different blends of chemicals in them.
Most samples were found to contain at least JWH018 and some products contained other synthetic cannabinoid-type substances from the "JWH", "AM" and "RCS" groups of compounds.
The relatively little known prescription benzodiazepine drug phenazepam was confirmed in Kronic Pineapple Express and in the Juicy Puff Super Strength samples. These products were found to be in breach of the Medicines Act and the Ministry of Health ordered an immediate recall.
Why couldn't ESR confirm some synthetic cannabinoid compounds in the study?
To confirm a particular chemical or chemical combination is present in a sample scientists require a reference drug standard to be analysed under the same conditions, for a direct comparison.
There are hundreds of thousands of drug reference standards and we do not hold every standard. For example because phenazepam was not a known or prescribed drug in New Zealand when ESR found it in samples reference standard from overseas had to be sourced in order to report its presence to an 'evidential' standard.
The speed with which these new synthetic cannabinoids are being adopted by 'underground' chemists means that the official agencies worldwide are struggling to keep up with obtaining appropriate authenticated reference materials, and understanding how these drugs are metabolised by users.
What workplace drug testing options is ESR now offering ?
ESR has developed a method to enable testing of synthetic cannabioids through its workplace drug testing programme. The test is based on metabolites found in the body which are produced as the synthetic cannabis compounds are metabolised. ESR is the first laboratory in New Zealand able to offer this testing option.
Both JWH-018 and JWH-073 are metabolised extensively in humans. Depending on dosage, the JWH-018 and JWH-073 metabolites have been detected up to 72 hours in urine. Very little parent drug excreted in human urine has been reported.
ESR will be updating testing options to ensure that its drug testing service is appropriate for the New Zealand context and products for sale.