A comprehensive report advocating the use of 1080 poison to control pest population and protect native species is rekindling media attention on a long-standing issue.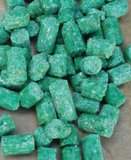 This morning, Parliamentary Commissioner for the Environment Jan Wright released a report examining the use of 1080 (sodium monofluoroacetate). The report canvasses existing scientific evidence and ultimately supports the use of the chemical as an effective measure to control rats, possums, stoats and other pests that threaten native species in New Zealand.
In an overview, the Commissioner states:
" It is my view based on careful analysis of the evidence that not only should the use of 1080 continue (including in aerial operations) to protect our forests, but that we should use more of it.

"It is seldom that I come to such a strong conclusion at the end of an investigation. But the possums, rats and stoats that have invaded our country will not leave of their own accord. Much of our identity as New Zealanders, along with the clean green brand with which we market our country to the world, is based on the ecosystems these pests are bent on destroying. We cannot allow our forests to die."
Read the PCE's full report.
It's not the first time 1080 use has been the subject of heated discussion. The Science Media Centre has previously gathered reaction from scientists on this controversial issue, and hosted an online briefing on current research into alternatives to 1080 use for pest control.
Selected media coverage:
Dominion Post: 'Drop more poison to save our forests'
TVNZ Breakfast: 1080 debate rages
TV3 News:  Call for increased use of 1080
Radio NZ – Morning Report: Report urges more use of 1080 poison (interview with Dr Jan Wright)
Radio NZ – Morning Report: Forest and bird advocate, MP debate 1080 report (follow -up)
Radio NZ – Nine to Noon: Commissioner for the environment calls for greater 1080 use (interview with Dr Charles Eason)
Stuff.co.nz:  1080 report 'kick in the guts' – Dunne
TVNZ News: Anti-1080 campaigners vow to continue fight
New Zealand Herald: 1080 poison gets tick from report
RadioLive – Marcus Lush: 1080 use must increase – Environment Commissioner