DNA analysis of feather cloaks dating back to 1810 has revealed fascinating insights about historical Maori trade and movement.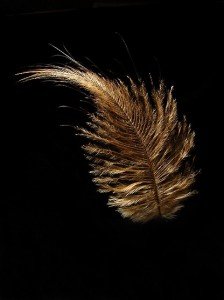 Scientists from Massey, Auckland and Griffiths Universities, in collaboration with a host of Museums , have carefully analysed the DNA of feathers used in traditional Maori cloaks. Their samples came from 113 cloaks sourced from museums around the world. The DNA analysis allowed the researchers to determine the species, sex and geographic origin of each feather's original wearer.
Writing for the Dominon Post, Kiran Chug looks at what the researchers inferred from their results.
An excerpt (read in full here):
DNA reveals Maori feather trade route
Ancient DNA samples extracted from Maori cloaks reveal a kind of feather trade route and show nearly all were made from North Island brown kiwi.
The cloaks, or kahu kiwi, have been studied by scientists who were surprised to discover the vast majority were made from feathers from the same species of kiwi on the North Island's East Coast.
Their work has been published this month, and shows that not only were the cloaks, or korowai, traded, but that tribes may have organised hunting trips to other tribal regions in order to collect brown kiwi.
Senior lecturer Craig Millar, from the Allan Wilson Centre for Molecular Ecology and Evolution, said researchers were able to extract DNA from the quill or shaft of feathers on 108 cloaks which dated back to 1810.
"That's the rich source of DNA. We could remove that without damaging the cloak at all."
The information that could be gathered from the DNA gave them an opportunity to investigate "important cultural and historical artefacts" and gain an insight into history.
"Some we know have been handed down from family to family. Others we know very little about."
One of the study's authors, David Lambert, said feather cloaks were treasured items, with particularly those adorned with kiwi feathers viewed as taonga.
The research team had been expecting to find the korowai were made from the feathers of a variety of birds, but "ninety-nine per cent of all feathers we found were from North Island brown kiwi, which did surprise us," Dr Millar said.
The samples also showed that about 15 per cent of the cloaks were made from feathers from different geographic locations, which implied the cloaks were traded, Dr Millar said.