An international study involving New Zealand patients and researchers has shown that a pill containing  a combination of treatments has significant impact on heart disease in at-risk individuals.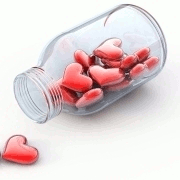 The international randomized controlled trial tested the efficacy of the 'polypill' in reducing risk factors for heart-disease, such as blood pressure and cholesterol. The pill contains a combination of four different drugs known to lower cardiovascular risk, including asprin and simvastatin.
The trial was partially funded by the Health Research Council of New Zealand and the National Heart Foundation of New Zealand. The researchers found that the treatment lowered the blood pressure and cholesterol of participants to level believed to halve their future risk of cardiovascular disease. While the results are less positive than indicated by earlier studies, the research shows a significant reduction in risk factors.
The study was covered on Stuff.co.nz via NZPA.
An excerpt (read in full here):
Polypill could halve disease risk
People who take a four-in-one combination pill daily could halve their heart disease and stroke risk, an international trial which received New Zealand funding has suggested.
Previously it had been claimed the "polypill" could reduce heart disease and stroke by 80 per cent.
The trial, which included participants from New Zealand, tested a once-a-day polypill, which contained aspirin and agents to lower blood pressure and cholesterol.
Professor Anthony Rodgers of The George Institute for Global Health said the results showed a "halving in heart disease and stroke could be expected for people taking this polypill long-term".
Other studies also showed the pill could decrease a person's risk of getting colon cancer by 25 to 50 per cent and reduce the likelihood of other major cancers, heart failure and renal failure, Prof Rodgers said.
Associate Professor Anushka Patel said no unexpected side-effects were uncovered in the study.
"We did show previous studies had underestimated polypill side effects considerably – in the short-term about one in six people have a side effect.
"Most were mild but about one in 20 overall stopped treatment due to side effects," Prof Patel said.
The authors of the study said because the results of the study were not as positive as previously suggested and due to possible side effects, the polypill should only be taken by people with raised risk levels.