New Zealand's immunisation program has drastically reduced the prevalence of many potentially life-threatening communicable diseases, but it wont rest on it's laurels when there is still room for improvement.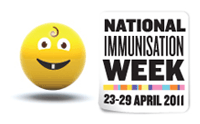 This week is New Zealand's National Immunisation Week, promoted by the Ministry of Health as a part of a larger World Health Organisation initiative. An awareness campaign, which will continue in the coming months, aims to raise New Zealand's immunisation rate for under twos to 95%. This ambitious initiative follows a Health Select Committee  report on the completion of immunisation schedules, which identified areas in need of improvement and discussed potential solutions.
For immunisation week, reporter Kate Newton looks at the issue of vaccine uptake in today's Dominion Post.
An excerpt (read the article in full here):
Fading memories of how severe some childhood illnesses can be is one of the main reasons people reject immunisation, an infectious diseases expert says.
Doctors and health officials are urging parents with questions or concerns about vaccination to talk to their GP about it during National Immunisation Week, which ends this Friday.
New Zealand's rate of childhood immunisation has improved in the past few years to 88 per cent of two-year-olds being fully vaccinated, but it still ranks below most other OECD countries.
Wellington Hospital infectious diseases specialist Tim Blackmore said one of the biggest myths about immunisation was that diseases such as measles and influenza were mild and not worth protecting people against.
"We had some measles cases in the Auckland region some months back and the [public] response was, 'So what?' But people forget that measles was one of the most common causes of blindness and lung disease – kids get really, really sick with it."
…

For more information about immunisation for your family, you can contact The Immunisation Advisory Centre