Kiran Chug reported in today's Dominion Post on a recent workshop run by the Royal Society covering geo-engineering techniques that could be used to combat climate change.
An excerpt (read in full here):
Planting fake trees, setting up mirrors in space and pumping iron into the oceans could be new tools in the battle against climate change.
Scientists and policymakers gathered in Wellington last month for a workshop on geo-engineering as work steps up around the world on trialling techniques such as fertilising the oceans or pumping aerosols into the atmosphere."…
The workshop was hosted by the Royal Society of New Zealand, and organised by Philip Boyd, principal scientist at the Otago University and Niwa Centre of Chemical and Physical Oceanography, who said nothing had come from the US company's scoping mission.
However, he warned that though overseas businesses were promoting geo-engineering "as the next dotcom", not enough research had been done into possible side-effects for large-scale projects to be launched.
"If we start one of these things, we need to know how to stop it."
Dr Boyd has been working with a team involved in creating a ranking system that would help assess possible schemes by safety, cost and effectiveness before they could be approved.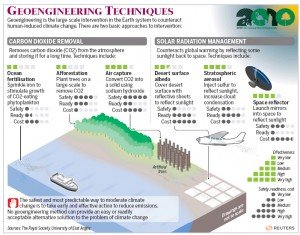 This Reuters infographic was published alongside the article. Click here to see the image full size.