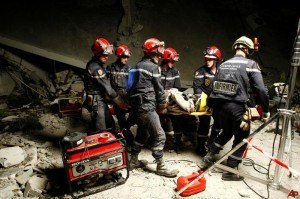 In an effort to assist New Zealand-based rescue efforts, the journal Disaster Medicine and Public Health Preparedness has published a series of open-access articles reviewing evidence from Haiti's 2010 earthquake and other recent seismic disasters.
The featured article, 'Survival interval in earthquake entrapments' focuses on aiding decision-makers faced with the difficult task of weighing the potential survival of victims against the risks to rescue workers and the need to divert efforts to other essential rebuilding tasks.
The work, which catalogues evidence from medical records and media reports of late rescues, highlights several key factors in determining the likelihood of survival, such as the crucial importance of void spaces in collapsed buildings, which may well be located at ground level or even below.
The authors also urge caution in reporting of dramatic survival tales, pointing out that the veracity of several of the most widely-publicised cases following Haiti's quake — including a man who reportedly survived in the rubble of a marketplace for 27 days — has been called into question. Some victims later admitted to re-entering buildings, becoming trapped several days after the initial quake.
An excerpt from the abstract:
Earthquakes can result in collapsed structures with the potential to entrap individuals. In some cases, people can survive entrapment for lengthy periods. The search for and rescue of entrapped people is resource intensive and competes with other post-disaster priorities. The decision to end search and rescue activities is often difficult and in some cases protracted.
Medical providers participating in response may be consulted about the probability of continued survival in undiscovered trapped individuals. Historically, many espouse a rigid time frame for viability of entrapped living people (eg, 2 days, 4 days, 14 days). The available medical and engineering data and media reports demonstrate a wide variety in survival "time to rescue," arguing against the acceptance of a single time interval applicable to all incidents.
The review article's authors, Andrew Macintyre, MD, Joseph Barbera, MD and Bruno Petinaux, MD — all of George Washington University — state in the article:
"Decreasing the uncertainty of whether live survivors remain under the rubble requires an integrated interdisciplinary approach: structural engineering, technical and canine search, rescue, hazardous materials, and medical professionals may provide relevant input. Although this multidisciplinary approach may be intuitive, it must be recognized that the individuals making the authoritative decisions regarding transition to rescue are commonly governmental leaders in the affected area. …
"In the experience of the authors, the search and rescue mode is unnecessarily extended in many situations by political leaders responding to public emotion, even with little realistic hope for additional survivors. … It is important to recognize that decision making by government leaders may be influenced by politics, public confidence, and the media reporting of late "live finds." …
"The veracity of any publicized late rescues should be rapidly investigated and if indicated, publicly corrected because this can have adverse effects on an otherwise responsible decision to end the search phase of an emergency response."
They go on to add:
"The evolving body of published data about entrapped victims suggests a significant variability in survival across earthquake experiences. Rather than proposing a simplified, absolute time limit for the entrapped individual's survival interval, a more cogent decision methodology should be developed that considers the factors presented in this article.
"The potential existence of void spaces is believed to be the most influential factor to incorporate into this decision support algorithm, followed by factors related to ventilation, available water (and to a lesser extent food), and then other considerations. … Current understanding strongly supports the concept that projected survival time will vary from incident to incident and even location to location within an incident, and thus should not be based on an absolute number."
The full article can be accessed here. Contact the Science Media Centre for media contact details.