The Government has announced a $2 million increase in funding for bariatric surgery for morbidly obese New Zealanders.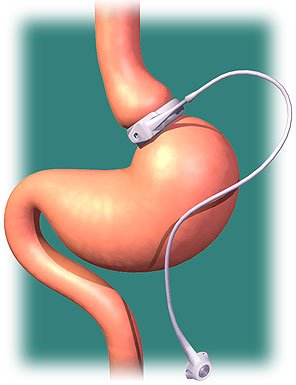 The extra funding will provide surgery for around 75 New Zealanders a year for the next four years.
The surgery, sometimes colloquially referred to as 'stomach stapling', is a means of losing weight. This is achieved either by reducing the size of the stomach by tying a band around it, removing a portion of it, or by re-routing the small intestines to a small stomach pouch (also called gastric bypass surgery).
There has been some controversy recently over whether the government should subsidise the surgery for those in need – the surgery can cost over $20,000 per person, and is only suggested for morbidly obese people, for whom it is considered to be the only intervention which works.
An announcement from Associate Health Minister Tariana Turia on the funding boost is available here.
The SMC gathered reaction from health experts – further comments will be added to the SMC website as they come in.
Professor Iain Martin, Dean of the Faculty of Medical and Health Sciences at the University of Auckland, comments:
"Clearly the impact of obesity and in particular morbid obesity upon the health and well being of the New Zealand population presents very significant challenges for the health system and indeed all of society. Addressing the many issues that have resulted in the considerable increase in obesity in New Zealand and across the developed and much of the developing world will require a mixture of many solutions.
"In the meantime we are faced with ensuring that we provide appropriate care for patients who are currently morbidly obese and face the major associated co-morbidities such as type II diabetes. Bariatric surgery is not a "magic bullet" solution but as part of an integrated multidisciplinary approach to the care of patients with morbid obesity it plays an important role. Indeed for the most severely obese patients it really is the only option that is likely to produce significnat and sustained weight loss.
"If appreciable public funding is made available for this treatment in New Zealand then it will be important that the surgery is carried out in units that can offer the integrated multi-disciplinary care that will result in the best possible outcomes. The surgery itself, whilst an effective treatment must be tailored to the needs of the individual patient and the centers involved in the treatment should, in my view, be able to offer a range of surgical interventions. It must also be appreciated that such surgery is a major undertaking that carries a moderate risk of major complications and a small but real risk of death and as such preoperative counseling and work-up is imperative."
Dr Elaine Rush, Professor of Nutrition, Faculty of Health and Environmental Science, Auckland University of Technology comments:
"With a limited resource of both money and expertise difficult decisions need to be made about treatment versus prevention. Bariatric surgery does improve the quality of life and reduce the burden of disease for the individual but does have common side effects and complications such as "dumping" and vitamin and mineral deficiencies . One way of assessing the benefit of treatment or prevention is to look at how many years (of healthy life) would be lost to ill-health and disability if the intervention was not applied. The measure of this is the disability-adjusted life year or DALY.
"The Victorian assessment of cost effectiveness of obesity interventions in children and adolescents modelled interventions for reducing obesity. Bariatric surgery (gastric banding) was judged to cost $2000 for every disability life year saved and reduction in TV advertising of high fat and/or high sugar foods and beverages directed at children as $4 for every disability life year saved. The difference is that the number in need of gastric banding is relatively small (one in six hundred) but costs the government but the cost to of a ban on advertising is borne by the advertisers not the tax payer. A multifaceted school based intervention with active physical exercise aligned with the curriculum was also judged to be cost effective. Prevention and treatment are both required and need to be provided with fairness, ethics and equity."
[The full Victorian report may be found here]
Dr Richard Babor, bariatric surgeon at Counties Manukau District Health Board, comments:
"Bariatric surgery benefits about 150 patients a year at Counties. This is a small proportion of the number of patients who pursue this surgery within our DHB. Those patients who have the surgery almost universally show a temendous improvement in their quality of life: their diabetes resolves in about 75% of patients, and sleep apnoea is resolved in about 80% of patients. Often they have also have high blood pressure or high cholesterol, which is improved in about 70% of patients.
"This has a long term and profound effect on their quality of life, and in the longer term probably saves the health system money."
Nikki Talacek,  Registered Dietician at Surgical Weight Solutions, comments:
"I am pleased to hear that there is going to be more public funding for bariatric surgery. This type of surgery has been proven time and time again in the research to reduce morbidity and mortality in the morbidly obese population. The severity of many co-morbidities are reduced if not resolved with bariatric surgery, with diabetes being a good example. We have had numerous cases of people who have had diabetes pre surgery, and then come off all their diabetes medication after surgery, including insulin. Morbid obesity is associated with many other medical conditions (such as metabolic syndrome, sleep apnoea and numerous cancers), and therefore any initiative which will reduce obesity rates in New Zealand will ultimately reduce the cost of health care in New Zealand, which can only be a good thing.
"Not only is physical heath improved after bariatric surgery, but mental health is often also improved after bariatric surgery. I have found that people's quality of life improves, and in general they are happier than prior to their surgery. I have had countless people tell me the surgery is the best thing they have ever done, and they wish they had done it sooner. They have much more energy, are able to be more active with their children, grandchildren, spouses, family and friends. I have had many women who are now able to have babies and as a result we have had many successful pregnancies.
"I am pleased this surgery is now going to be more freely available to those who for those who are unable to fund this themselves in the private sector."
Dr Michael Booth,surgeon at the Waitemata Specialist Centre, comments:
"The $2 million dollars represents a significant financial boost for those patients unable to afford private surgery. Of course this dependent on the funding structure the precise details of which I am unaware.
"Presently there is inequity of access in NZ. Consideration needs to be given to this as some DHBs do not fund weight loss surgery. There are also different procedures performed as well as different accessability criteria offered by some DHBs eg the Auckland DHBs.
"There is currently a real need to peerform randomised controlled trials to assess the relative merits of the commonly performed procedures looking at weight loss, resolution of comorbidities such as type 2 diabetes and obstructive sleep apnoea. Complications as well as aftercare, quality of life, should also be assessed. This potentially represents an ideal opportunty to look at these procedures from a long term (minumum of 5 years) prospective. These procedures all look good at 1 year, but what about at 5 and 10 years? The funding provider should be very interested in such detail.
"As a minimum requirement there should be a national database to collect such information in a prospective fashion so results can be audited and published."