Earthquake experts Dr Ken Gledhill and Professor Martha Savage held a public lecture in Wellington today looking at the scientific data gathered during and following last Saturday's 7.1 magnitude earthquake in Canterbury and what it tells us.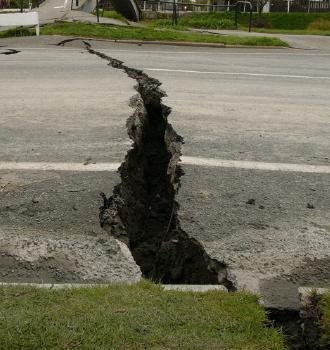 Key talking points
– The 7.1M earthquake was a strike-slip quake – the ground, according to Professor Savage "slides past itself horizontally, with very little up or down movement. The fault ruptured east to west away from Christchurch.
– The fault was previously unknown, buried under huge amounts of gravel 90km from the Alpine faultline where largescale seismic activity was expected.
– The quake consisted of two big pulses – the second was larger but lasted for a shorter period of time.
– Extensive displacement of land in some areas eg: Highfield Road – 3.8m displacement horizontally, 1.6m vertically. This type of displacement has been identified in old faultlines in places like the Wairarapa where a fault had horizontal displacement of 120m and vertical displacement of 20m.
Extent of damage
– Incredibly lucky no one was killed, especially by falling chimneys.
– Liquefaction and falling brickwork caused most of the damage.
– Liquefaction caused significant damage to water and sewerage systems.
Aftershocks
– Aftershocks have been "decaying" and will get smaller and less frequent over the next few months.
– There is the likelihood of "one or two more" magnitude 5 or greater quakes still to come.
Ongoing monitoring
– Temporary seismometers have been deployed to more accurately gauge the size and location of aftershocks.
– 200 seismometers from Stanford University are being deployed across the region, in some cases in people's homes.
– GPS stations are being used to determine how much the ground has shifted (surface deformation).
Questions remaining
– How can we find other unknown faults in New Zealand?
– Can earthquakes interact and have an impact on each other? If so, how?
– What can we learn about the emotional impact of people in the wake of disasters like this? Can we better predict earthquakes?
– What can we learn to improve building standards?
Click below to listen to audio from the lecture…
Dr Ken Gledhill, Duty Seismologist at Geonet
[audio:https://www.sciencemediacentre.co.nz/wp-content/upload/2010/09/keith-gledhill.mp3]
Professor Martha Savage, School of Geography, Environment and Earth Sciences, Victoria University
[audio:https://www.sciencemediacentre.co.nz/wp-content/upload/2010/09/martha-savage.mp3]