A new paper published by Australian and New Zealand researchers has thrown into stark relief the potential ecological crisis facing Oceania – otherwise known as the region encompassing New Zealand, Australia, Melanesia, Micronesia and Polynesia.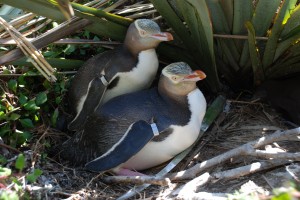 The region has 6 of the world's 39 diversity hotspots, and, unfortunately, a very poor extinction record when compared with other regions.  Without effective intervention, this reputation could worsen, say the paper's authors.
The study, published in Conservation Biology, reviewed 24,000 conservation publications and identified six primary threats – all human-based and including loss of habitat and overexploitation.  It also proposes a set of policy recommendations to combat each threat, and recommends that action be taken urgently.
Dr Craig Morley, Programme Manager of Biodiversity at the Department of Conservation, and one of the review's co-authors, comments:
"What we were trying to do is highlight the main conservation issues in our region. The key objective of the paper was to state categorically what we felt needed to be prioritised for the decision-makers e.g. government, NGO's, community groups, and stakeholders in our region.
"The problem from our point of view is that without some direction and focus, such as what we have provided in our paper, many of the tough conservation issues may not be dealt with. Apathy and indifference in making some difficult decisions leads to an even greater risk of extinction, that is, many conservation issues are being put aside in today's tough economic climate in the name of political and economic expediency.
"Whilst, Australia ahand New Zealand have some capacity to address some of the conservation issues we have raised, many of the Pacific island nations do not and it is here that we face some of the greatest risks of extinction. We particularly wanted to highlight their plight but we also wanted to focus general attention on the rate of extinction throughout our whole region."
Professor Tony Peacock, CEO of the Invasive Animals Cooperative Research Centre, ACT, comments:
"This is an important paper because it is a genuine attempt by prominent scientists to point to policies most likely to deliver better conservation outcomes. It's also a timely reminder that we desperately need better conservation outcomes as the world faces the sixth great extinction event, the first to be caused by man."
Professor Chris West, CEO of the Royal Zoological Society of South Australia and Professor of Zoology, University of Adelaide and Professor of Biodiversity Conservation, Flinders University, SA, comments:
"A valuable paper and analysis of key threats to biodiversity which underlines the urgent need for action. It reinforces understanding of the relative causes of accelerating extinction – and, crucially, presents policy recommendations. It combines analysis of causes of extinction, rational listing of what needs to be done and a clear call to arms to save what we can.
Policy priorities and prevention emphasis – actions needed to avert an extinction crisis – a wake up call. Useful – but we desperately need to do something, many things now."
Dr Barry Traill, Director of the Wild Australia Program – a joint program of Pew Australia and The Nature Conservancy, Queensland – comments:
"Our wildlife is in serious trouble. This study puts into sharp focus the threats that continue to wipe out our native animals and plants. Action is needed now to prevent a future where the heritage of Australia, and our nearest neighbours, could be just a memory."
The sixth great extinction is occurring as we speak, and is largely attributable to human factors both direct and indirect.  In the Pacific, this influence has been particularly strong, with the loss of over 1,200 species of birds serving as a defining example.  The review found that habitat destruction and species loss are worsening and that the six major factors behind the destruction are due to human activity.
Of these six, the review highlights habitat/ecosystem loss and degradation as the greatest single threat to the region's terrestrial species, and habitat loss threatens more than 80% of the threatened species assessed by the review.  In Australia alone, agriculture has changed or destroyed about half of all woodland and forests, and about 70% of what is left has been damaged by logging.  Marine environments are also at risk due to overfishing, dredging and trawling (amongst other things), and interference with river courses has profoundly affected freshwater systems.
Invasive species and climate change are also prominent threats.  As we know in New Zealand, invasive animals have decimated local bird populations, but the problem extends to invasive plant and even fish species.  Climate change has had far-reaching effects, from drought in Australia to the acidification of oceans, and species' distributions have shifted accordingly.  This will change habitats and whole populations, with potentially devastating effect.
The other factors highlighted were pollution, disease and overexploitation – a particular issue with fisheries.  Population is also an important contributor – New Zealand's population is expected to increase by 25% by 2050, and the population increase on other islands such as Papua New Guinea is expected to be even more dramatic.
Unsurprisingly, most of the conservation work being done is by New Zealand, Australia and the Hawaiian Islands, but the authors do suggest a number of policies which would spread these efforts throughout the region.  They also highlight recommendations for governments on how to mitigate and lessen each of the other threat's effects, emphasizing the urgency necessary if Oceania's extinction record is to improve, or at least not worsen.
In the news:
ABC News: Scientists sound Oceania Extinction Warning
ABC Radio: Oceania's environment threatened by extinctions
ABC Science: Call for action on biodiversity in Oceania
Radio Australia – Pacific Beat: Humans cause of latest great extinction event
Radio Australia – Connect Asia: Human impact causing extinctions in Pacific region
Sydney Morning Herald: Australia one of worst animal destroyers
The Canberra Times: Call for treaty to save Pacific species
The Great Beyond (Nature blog): Oceania and the 'worst extinction record on earth'
The Guardian: Human activity is driving Earth's 'sixth great extinction event'
The Telegraph (UK): Australia and the Pacific 'becoming extinction hotspots'