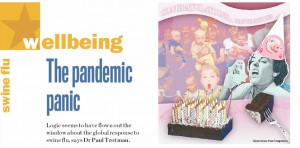 A recent article by Dr Paul Trotman proposes an alternative view on swine flu and its treatment in the media. Dr Trotman is a Dunedin doctor, health/medical columnist, and has also produced television for channels such as Discovery Primetime and Discovery Health.
In his article 'The Pandemic Panic', published in the Sunday Star Times on 28 June, he argues that the global response to the H1N1 strain of flu has been less rational than could have been the case.  We have, he argues, been far more cautious about the outbreak than is strictly warranted, and that the attempts to prevent people catching it now could have far-reaching consequences.
Prof Kurt Krause, Director of the Webster Centre for Infectious Diseases at the University of Otago, comments on the article:
"I enjoyed [this article] very much.  There are several valid points the author is making. I would venture that the Ministry of Health policies were developed to deal with a much more dangerous variety of flu than swine flu has turned out to be. But in their defence there was no possible way to predict at the start of the pandemic exactly how serious this strain was going to be. Interestingly numbers are still going up in the USA and it will be interesting to see when they will peak."
The full article (in PDF format) is here: The Pandemic Panic – Dr Paul Trotman.