Scientists suggest Auckland students recently returned from a school trip to Mexico with flu-like symptoms are "very likely" to have been infected with a form of influenza A strain – a mix of human, pig and bird flu strains.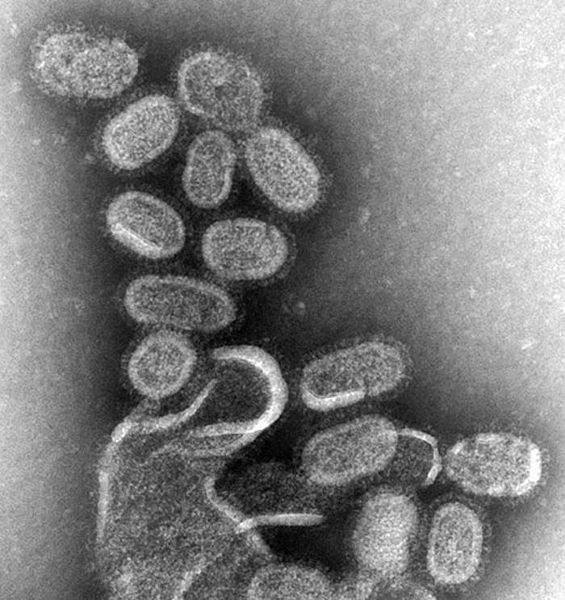 Samples from the students have been sent to the World Health Organisation Collaborating Centre for Reference & Research on Influenza in Melbourne for testing with results expected to be released in the next few days. For more information from the WHO, contact Rod Jackson-Smith on +61 417 1556 214.
While swine flu may have killed 80 or more people in Mexico, its symptoms among those suspected of being infected in the US and here in New Zealand are mild. Many of the school children are recovering well.
However, scientists fear that the current swine flu virus could cause a pandemic if human-to-human transmission becomes efficient and therefore regard the global response to the outbreak as appropriate.
The New Zealand Ministry of Health is issuing regular media updates on the situation here.
The NZ SMC and the AusSMC rounded up comment from scientists on the swine flu outbreak in Mexico and the implications of the virus emerging here.
Professor Kurt Krause, Director of the Webster Centre for Infectious Diseases at Otago University comments:
"It's too soon to tell if the isolates from the New Zealand students are going to be swine flu but it seems very likely. It's also too early to predict if this swine flu outbreak will become a pandemic. I think the response from our health authorities here has been appropriate. I think scientists in the US have been very prudent in their response to this as well.
"Certainly, we've learnt a lot from SARs and avian flu, and this has helped prepare us for this weekends events. It's encouraging that the young people in the US who were infected are getting better. The reported mortality in Mexico is clearly a matter of concern but with 1600 reported cases, it seems very likely that many thousands of cases will have occurred making the actual percentage of deaths very low.
"New Zealand has a few major things going for it in that its Government was the first to set aside large stocks of Tamiflu, which were for a feared avian flu pandemic. That now has turned out to be a major benefit for us. New Zealand has quite a good outbreak monitoring centre at ESR in Wallaceville, headed by Dr. Sue Huang and we have excellent scientists, like Dr. Lance Jennings, University of Otago, CDHB, who should be rapidly able to figure out whether this strain is sensitive or resistant to Tamiflu.
"If you're experiencing flu-like symptoms stay away from public places, be sure to wash your hands and if you have to work with people, wear a mask."
For further comment contact Professor Krause on 03 471 9055 or 021 074 4303
From Australia
Professor Bill Rawlinson is from the University of New South Wales. He also works in the Department Of Virology at the Prince of Wales Hospital in Sydney.
"There appears to be a spectrum with swine influenza ranging from Mexico where there have been a significant number of deaths to elsewhere where it has presented as a relatively minor illness. There is clearly a spectrum of illness occurring, but it's still not clear how virulent swine influenza is going to be and we will need to collect more evidence over time.

"The availability of heightened surveillance means that this has been identified quite quickly and gives us significant early information – that's a good thing.
"It is very important to say that we have learnt a lot of lessons from avian flu and SARS, but that each outbreak is different and this one needs to be dealt with on its own merits.
"Though the systems in place will be extremely useful the clinical nature of the swine influenza outbreak and the outcomes for patients need to be monitored very closely. In dealing with the swine influenza, we can use some of the same systems that we have in place but this should not blind us to the fact that this is a different virus that has arisen in different ways and we still have to learn about what the spread of the virus is likely to be, what forms of treatment will be needed and the utility of vaccination."
Dr Danilla Grando is a hygiene expert and Lecturer in Clinical Microbiology in the School of Applied Sciences at RMIT University in Melbourne. Her research focuses on community hygiene and how improving public hygiene habits can help prevent the spread of infectious diseases.
"Research has shown that one of the most powerful weapons against the spread of respiratory illness, including any strain of influenza, is simply improving your hand hygiene.
We know that contact transmission is one of the key ways that people become infected by influenza.While flu is an airborne virus, people often fall sick from touching something that carries the influenza germs and then putting their hands in their mouths, often while eating.
Always washing your hands before meals is vital but using an alcohol-based hand sanitiser throughout the day is also extremely effective, and an essential tool in helping to prevent the spread of influenza."
For interviews call Dr Danilla Grandoon +61 3 9925 7135 or + 61414 709 932.
Professor Robert Booy is Head of Clinical Research at the National Centre for Immunisation Research & Surveillance (NCIRS) based in Sydney.
"At this time, although the swine influenza outbreak in Mexico is being taken very seriously both locally and internationally, there remains considerable uncertainty about many things but considerable reason for optimistic caution in Australia."

Will a pandemic result?
"Quite possibly – time will tell and quite possibly we will know very soon. However, even if or when a pandemic (or worldwide outbreak) occurs, it will not be like the big killer, the Spanish Flu, that accounted for over 50 million people in 1919/1920. We are just so much better prepared this time. We have highly effective drug therapy and also the wherewithal to produce a vaccine. Intensive care is light-years more advanced and we understand so much better the value of simple measures like hand-washing, mask use, avoidance of crowds and quarantine."
What is the virulence of the organism and hiow likely is it to transmit between humans?
"We need more information. Reports from Mexico suggest this is a nasty bug but it is unclear as yet how well it can spread between humans."
Are most cases occurring in young people similar to the Spanish pandemic after World War 1?
"We just do not know, but if that were the case, it may indicate that older people have immunity from previous influenza infections providing them protection. Alternatively and perhaps additionally, influenza may also be prominent in young people and children simply because they mix so much more at schools, universities, parties, sports events and so on."
Will routine influenza vaccination provide any cross cover?
"One would hope so and it may make the difference between falling ill and perishing but for now we can only hope for this. The best guess is that immunity from a prior influenza infection or vaccination is unlikely to prevent acquisition of infection and flu symptoms. Those at high risk of seasonal influenza such as the elderly, pregnant women and those with chronic medical conditions (eg of heart, lung, liver or kidneys) should ensure they have had the annual influenza vaccination."
Although the organism is so far susceptible to modern anti-viral therapy with either Zanamavir or Oseltamivir, might resistance be induced?
"This is unlikely – previous swine flu isolates have been sensitive to the neuraminidase inhibitors. Australia is fortunate in both having a large local stockpile as well as the capacity to manufacture Zanamivir (an Australian discovery) here."
The apparent high death rate in Mexico seems at odds with the mildness of cases reported from the US?
"This is however entirely consistent with the notion of the case fatality rate in Mexico of about 5%: because with only about 20 cases in the US, the 1 in 20 death rate may not yet be evident.
"More importantly, one would expect a much lower case fatality rate anyway in the USA; cases there generally present earlier to medical care and then receive, on average, a higher quality of care. What's more with better nutrition and social conditions in the USA, this may also account for milder disease.
"Pandemic planning has been a major 'whole of government' issue in Australia for more than 5 years with close cooperation between Commonwealth and jurisdictions. This 'joined-up thinking' has included business, education and other sectors. The stockpile of antivirals in Australia is on a par with the best in the world – and we know how to get the drugs to the frontline.
"For now it is important to be diligent, with heightened surveillance for cases at community and hospital levels, to take common-sense precautions and to seek medical attention for severe symptoms of flu like high fever, cough, and muscle aches, while continuing to manage mild sniffles and colds at home. We are one of only 10 countries in the world that can manufacture onshore a new influenza vaccine against a pandemic strain and this can achieved in as little as 8 – 12 weeks, so although vaccination will not be a first phase issue, we have it in reserve."
Dr Mark Lawrie is President of the Australian Veterinary Association (AVA) based in Sydney.
"The AVA is not concerned about an outbreak of swine flu among pigs here in Australia. Australia doesn't import any pigs, so we're not worried about animals getting sick or spreading this disease. We also don't import any pig meat from Mexico.
"People should have no qualms about going ahead and eating pork. Pork continues to be safe to eat. In any case, the swine flu virus is inactivated as soon as the meat reaches 70° Celsius during cooking.
"The real concern is human to human transmission by those who have visited a country with an outbreak. Swine flu is spread by skin to skin contact, so washing hands is going to be much more effective than a face mask.
"This outbreak firmly underlines the need for a One Medicine approach to global disease threats where animal and human health professionals work hand in hand. Around 70% of emerging diseases are capable of infecting both animals and humans. We need to work closely together to research and respond to threats to human and animal health."
Professor Raina (pronounced "r-i-nah") MacIntyre is Professor of Infectious Diseases Epidemiology and Head of the School of Public Health and Community Medicine at the University of NSW. She sits on the Scientific Influenza Advisory Group to the Chief Medical Officer of Australia and is an expert in influenza and emerging infectious diseases.
"The outbreak of swine flu in humans has come as a bit of a surprise because everyone has been concerned about avian influenza being the source of the next pandemic. The other interesting point is that it's H1N1 which is not entirely a new strain of influenza to humans. The 1918 pandemic was H1N1 and we've had different types of H1N1 circulating in humans ever since. Normally a pandemic is caused by a major antigenic shift which is when an H type shifts to a completely new type that has never been seen in humans before, for example an H5 or an H7. But in this case it's an H1 which has been seen in humans before, but it is sufficiently different to be of concern and could cause a pandemic. This strain is a re-assortment of human, avian and swine strains of influenza.
"Last year the majority of H1N1 seen in the world was resistant to antivirals such as Tamiflu, which is out first line of defence. But it appears that this H1N1 is sensitive to antivirals, which doesn't mean that resistance couldn't occur. There seems to have been a high fatality rate in Mexico which is of concern and there's obviously been a fairly rapid spread to other countries including the US, NZ and possibly France, Chile etc.
"There are already efforts underway to produce a matched vaccine. The seasonal vaccine that's currently available now probably won't give substantial protection against this strain of flu. It might give small degree of protection that might make the difference between dying from this infection and not. The delay in making the matched vaccine available will be a minimum of eight weeks and possibly up to three months or more. This will take us well into the Australian Winter where we will not have a matched vaccine. In one month we will be right in the Australian winter and it will become more of an issue for us than for the Northern Hemisphere where they will be going into their summer. There are other measures that are really important in that time.
"Without a matched vaccine it will be important for people to use all other protective measures that they can, such as masks. My research shows that masks can protect against respiratory viruses. Other measures include hand washing, social distancing (avoiding crowded places etc), being careful when looking after sick people, using tissues when sneezing or coughing and disposing of the tissues immediately etc."