Plant & Food's decision to suspend two genetic modification trials following an environmental control breach has struck a blow to the research institutions undertaking such research in New Zealand.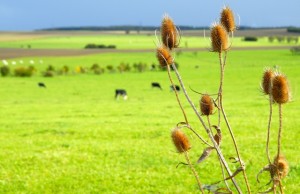 The suspension of the trials and the canceling of an operator's license by MAF, was in response to GM opponents' discovery of a plant mistakenly left to flower once a field trial had ended late last year.
Here are some background articles that appeared today –
NZ Herald: GM trial axed after crop error is exposed
NZPA: GE brassica trial uprooted
3 News: Anti-GE campaigners celebrate
These events have reopened debate on a sensitive issue. We asked scientists who have observed the GM debate from the outset to provide their reaction and reflect on the future of GM research in New Zealand:
Barry Scott, Professor of Molecular Genetics and Director of the Massey University Centre for Functional Genomics said:
"While I doubt there is any serious risk to the environment from the escape of this pollen it is disappointing to hear that the containment conditions set by ERMA for this particular trial have not been met.
"This is a set back for the scientists and organisation involved but should not discourage others putting forward applications for further trials. There are potential benefits for New Zealand in using this technology in agricultural systems so we should not close the door on the basis of this one lapse.
"I would remind the public of New Zealand that we have one of the strictest regulatory regimes in the world. Applications are considered on a case by case basis and conditions are almost always imposed to manage any risks. We do have an appropriate regulatory regime for managing this technology."
Jean Fleming, Professor of Science Communication at the University of Otago, a molecular biologist and Commissioner with the New Zealand Royal Commission on Genetic Modification in 2000-2001 said:
"The cancelling of the GM brassica field trial and the suspension of the insect-resistant onion trial by Plant and Food Research is a wake up call to the horticultural scientific community.  Opposition to genetically modified food crops does not appear to have diminished in the eight years since the Royal Commission on GM. Whilst I personally consider the risk of 'environmental contamination' from these flowering plants to be insignificant, the cancellation of this trial can be considered as a huge waste of money and time for all concerned.
"The Commission recommended that each proposed use of GM technology be considered on a case-by-case basis and this trial was properly approved by the Environmental Resource Management Authority. I would hope the Authority continues to consider proposals on their own merits, without being unduly influenced by the outcome of this trial."

Professor Ian Warrington of Massey University's Horticultural Science department said:
"It is pleasing to see that the conditions that have been set in place regarding the management of contained field trials of genetically modified crops in New Zealand are effective. It is very important that the concerns of those opposed to these technologies are being addressed but equally important that New Zealand can retain active research efforts, in regard to this important area of plant science, under the current legislation that is in place in this country."
Further comments will be posted here on the SMC website.