The silly season is over and the country's newsroom's are starting to fill up again with (ahem) enthusiastic and refreshed reporters.
On behalf of the SMC, I'd like to wish you all the best for 2009. We'll be ramping up some of our activities so keep an eye on our weekly Heads-Up newsletter and the website to keep up with what we are doing.
The holiday period proved to be a largely science-free zone for the media, bar the ritual string of weather-related stories. Detox stories also seemed to be particularly popular around the world, as well as detox-debunking stories. The Detox Dossier out of Britain made for particularly interesting reading.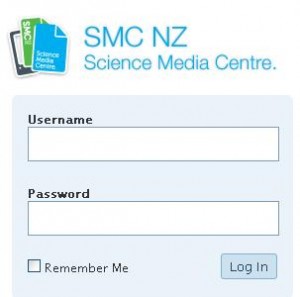 Register for back-stage access
The SMC runs a restricted-access resource library available for New Zealand journalists to access. The library gives you access to current research papers, photos, audio clips and a Youtube feed of science-related videos.
The resource library costs nothing to access for verified journalists. Click here to sign up – we'll vet your details and can provide access within minutes.
Background briefings
This year the SMC will be running breaking news briefings and background briefings on science-related issues. This will typically involve journalists having the opportunity to dial into a phone and internet conference to listen to scientists speak as a web presentation is given. This system has been very successful for our friends at the AusSMC in Adelaide, allowing the team there to gather scientists and journalists from across Australia.
We plan to run occasional physical briefings as well when logistics and interest from the media make it appropriate.
We will be in touch with briefing topics soon, but please let us know if there are briefings you would like to see us run. Send any suggestions to smc@sciencemediacentre.co.nz
Reducing surgical disasters
The World Health Organisation's safety checklist for surgeons seems to be saving lives and cutting down on medical mishaps according to a new PAPER released today in the New England Journal of Medicine.
"Surgical complications are a considerable cause of death and disability around the world," noted the paper's researchers in the NEJM. "They are devastating to patients, costly to health care systems and often preventable."
However, surgical teams at eight hospitals around the world, including Auckland City Hospital, showed that by following a 19-item safety checklist, the average patient death rate at the hospitals fell by other 40 per cent overall and the rate of complications fell by around a third.
"The checklist is simple and straight-forward, requiring just a few minutes to complete at three critical points during operative care – before anaesthesia is administered, before skin incision and before the patient leaves the operating room", said Professor Alan Merry, specialist anaesthetist at Auckland District Health Board (ADHB) and Head of Department of Anaesthesiology at Auckland University.
More info on the WHO's Safe Surgery Saves Lives initiative here. For comment from Professor Merry and other Auckland Hospital experts, contact Jenny Williams, ADHB communications manager on 021 366 664
The Magnetic South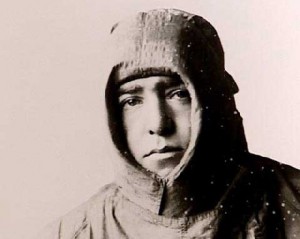 Friday (16th Jan) is the 100th anniversary of Ernest Shackleton's team reaching the South Magnetic Pole. To commemorate it, Neville Jordan, the tech entrepreneur and president of the Royal Society and Nigel Watson of the Antarctic Heritage Trust, are in Antarctica to commemorate the event and to check out preservation efforts on Shackleton's hut.
They'll be available on sat phone over the next couple of days if you wanted to interview them. Contact the SMC for details.
Checking the world's health
This week saw the release of the Worldwatch Institute's State of the World 2009 report. The report doesn't make for reassuring reading. It suggestions a reduction in greenhouse gases of 85 per cent by 2050 and more thereafter will be required to avoid temperature increases that would lead to highly-disruptive climate change this century.
The AusSMC wrapped up some commentary from scientists here.
For comment from local climate experts contact the NZ SMC.
Putting the end in Endosulfan
Just before Christmas, the Environmental Risk Management Authority (ERMA) revoked approvals for the insecticide endosulfan and prohibited its importation, manufacture and use in New Zealand.
That move was sparked by widespread alarm that greeted the news late last year that endosulfan, which is banned in dozens of countries, was being used to treat playing fields here in New Zealand. ERMA stated that: "The level of adverse effects to the environment, human health, the relationship of Maori to the environment, and to New Zealand's international relationships outweighed any positive effects associated with the availability of endosulfan in New Zealand."
ERMA's ban on endosulfan takes place from tomorrow (January 16) and the authority has also issued instructions for the elimination of exisiting stockpiles of endosulfan within the next 12 months. For more info contact Lesley Meadows at ERMA 04 918 4835.
Scientists look to history for climate answers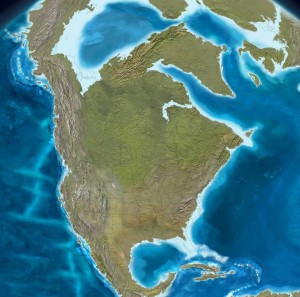 An international group of scientists have been involved in intense discussion this week in Wellington on climate and biotic events of the Paleogene and what we can learn from them to predict the impacts of climate change in the future. The event has been organised by GNS Science and attracted a good deal of media attention already. A podcast of Professor James Zachos' presentation at the conference on models of future climate change is available on the SMC website. More recordings will be posted soon – sign up to our email or RSS feeds to get the updates sent directly to you.
New from the SMC
Best of the SMC blogs: The state of science journalism in New Zealand, UK stem cell research falters, Controvery over fat tax, How your friends make you fat, happy and smoke-free, 2008 ends in climate change confusion
Podcasts: Two interesting perspectives on the reporting of genetic modification in two different countries – Tomiko Yamaguchi on the how GM issues are treated in the Japanese media and Doug Ashwell on the marginalisation of interest groups in media coverage of GM here in New Zealand.
Nanoparticles backgrounders: From sunscreen to food, nanoparticles set to play a bigger part in our lives – not that many of us will realise it. Safety bodies around the world have raised concerns about the development of nanoparticles without corresponding oversight in the form of nanotechnology regulation. We asked the New Zealand Food Authority and the Riddet Centre to contribute background briefing documents on nanoparticles from the New Zealand perspective. For experts on nanotechnology, contact the SMC.
Predicting the weather – what's involved? SMC contributor Motoko Kabubayashi consults the experts on what exactly is involved in weather forecasting. You may also be interested in MetService weather ambassador Bob McDavitt's weather summary for 2008.
Research highlights
Aussie scientists and their eco-fridge: Smart' fridges that run on renewable electricity and are capable of negotiating the most energy efficient way to keep food cold have been developed by researchers from CSIRO's Energy Transformed Flagship.
CSIRO's Intelligent Energy team have developed a fridge capable of maintaining its average temperature while regulating its power consumption from renewable-energy generators, such as solar panels (photovoltaics) or wind turbines.Details here.
Learning happiness: University students will be taught how to be happy through a new website. The CALM (Computer Assisted Learning for the Mind) website focuses on positive psychology, the science of looking at what makes people truly happy. Students will be able to download audiofiles giving specific techniques to manage three sources of long lasting happiness – mental resilience, healthy relationships and finding meaning in life. Details here.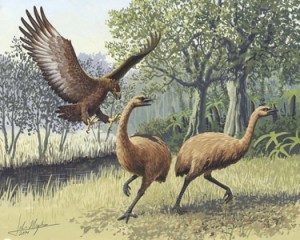 Ancient bird poo reveals NZ's past: A treasure trove of information about pre-human New Zealand has been found in faeces from giant extinct birds, buried beneath the floor of caves and rock shelters for thousands of years.
A team of ancient DNA and palaeontology researchers from the University of Adelaide, University of Otago and the NZ Department of Conservation have published their analyses of plant seeds, leaf fragments and DNA from the dried faeces (coprolites) to start building the first detailed picture of an ecosystem dominated by giant extinct species.Details here.
Next week's sci-tech events
Australasian Computer Science Week: Te Papa, Wellington 20 – 23 January. An international multi-conference event for Computer Science professionals, researchers and students, and occurs under the auspices of the Computing Research and Education Association (formerly the Computer Science Association). ACSW 2009 includes the 32nd Australasian Computer Science Conference (ACSC), the premier generalist forum for Computer Science Academics from Australia and New Zealand. Details here.
Biomaterials conference: Sydney, 21 – 23 January: Bringing together scientists, engineers and clinicians to discuss their latest results in key strategic areas of biomaterials science and engineering including biomaterials, implants, tissue engineering and regenerative medicine. Details here.