The Science Media Centre has launched a new series of intensive media and communications skills workshops for scientists and researchers across New Zealand.
UPCOMING WORKSHOPS:
Auckland – 20-21 November 2014 – APPLY NOW
Wellington – Early 2015, date TBD
Looking for another location? – Register your interest here
Designed specifically to orient scientists and researchers to the realities of a rapidly changing media environment, these workshops offer practical skills and experience that will help participants work more effectively with media.
Over two days, participants gain confidence and learn strategies enabling them to successfully navigate a range of media encounters. We offer an intimate group setting with tailored media training and lots of individualised feedback. Scientists with a range of prior media contact — from total novice to seasoned science communicator — benefit equally from the chance to refine their techniques and gain new perspectives.
Significant opportunities to interact directly with real journalists — during a newsroom tour, media discussion panel, and idea pitch session — are a unique strength of the course. Science Media SAVVY workshops are led by Peter Griffin and Dacia Herbulock of the Science Media Centre, with support from veteran media trainer Michael Brown of Skillset NZ.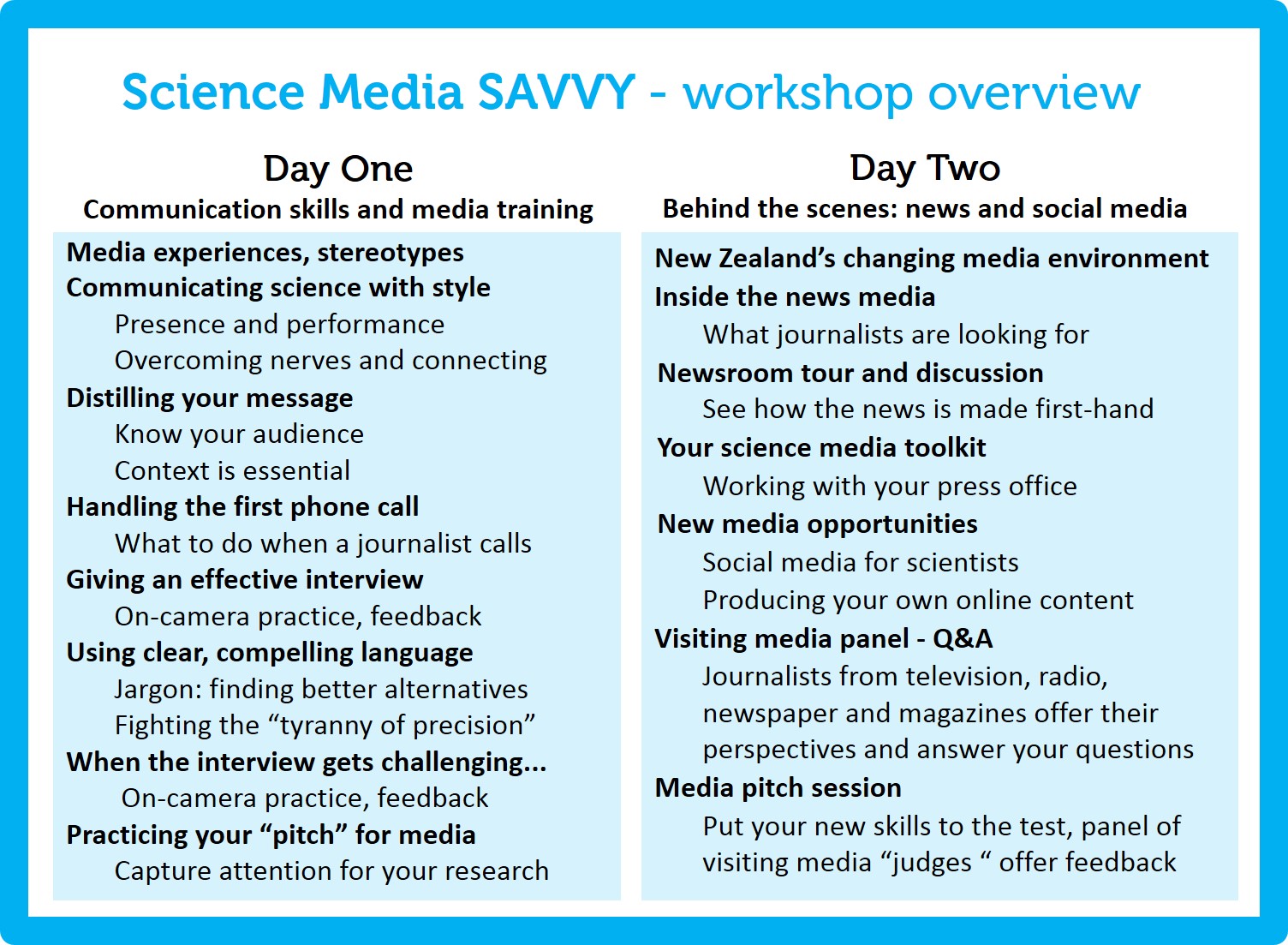 Course fees: NEW Lower price of $595 + GST per person. PLUS, we now have TWO scholarships covering full course fees available per workshop: 1) for an early career researcher (up to 5 years post PhD) and 2) for a qualifying postgraduate student who shows exceptional promise as a science communicator.
Additional information on SAVVY (PDF)
Download a flyer for November 2014 Auckland workshop (PDF)
Why bother with media?
Scientists who are comfortable and effective in front of media are better able to explain their research and its significance to a wider public. They gain a voice for science on important issues, using evidence to inform public opinion. They extend their ability to reach potential collaborators and business partners, attracting unexpected benefits. They can help inspire young people to become scientists, and spark an appreciation for science in new audiences.
Practical communication skills gained can be put to immediate use to improve public lectures, stakeholder briefings, grant applications, interactions with students, colleagues and investors, as well as other forms of outreach.
Previous workshops:
Click through to see photos and read feedback from participants: The pilot workshop was held in Christchurch in October 2012, with funding support from the 2011 Prime Minister's Science Media Communication award winner, Dr Mark Quigley.  The second SAVVY workshop took place in March 2013, hosted by the Liggins Institute, with further workshops held in Wellington in June and August, Auckland in November 2013, Dunedin in March 2014, Wellington in May 2014 and Hamilton in August 2014.
Over 80 scientists have now completed Science Media SAVVY.
If you have questions, or would like to register your interest in applying for a future workshop in your area, contact the Science Media Centre at smc@sciencemediacentre.co.nz with 'Science Media SAVVY' in the subject line.